Harlem Quartet with Aldo López-Gavilán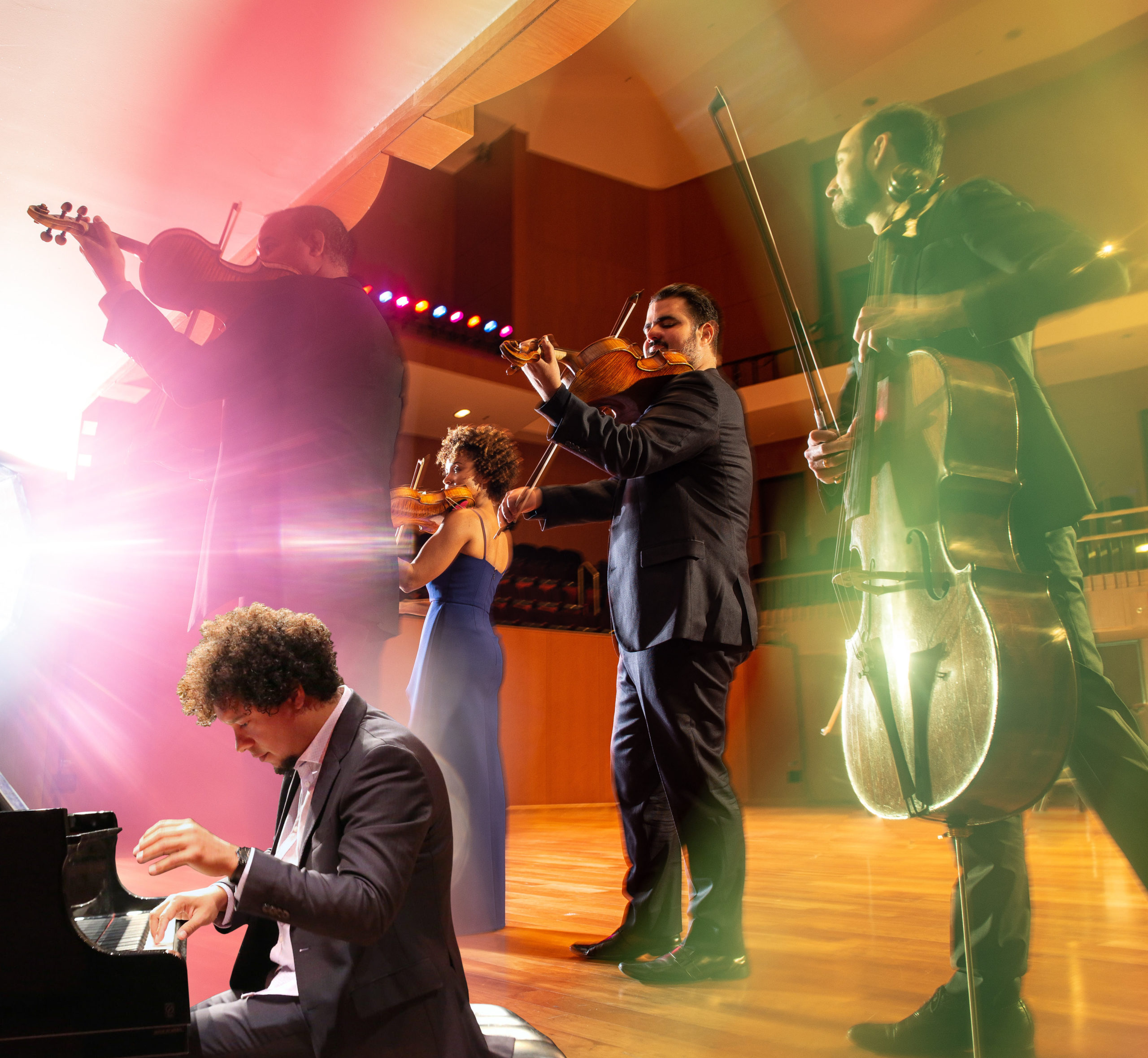 The Grammy-winning Harlem Quartet had its public debut in Carnegie Hall in 2006 and has pleased audiences and students in forty-seven states and ten countries since. Harlem Quartet's programming combines standard string quartet literature with jazz, Latin, and contemporary works. Its collaborative approach to performance continually broadens the ensemble's repertoire and audience reach through partnerships with other musicians from the classical and jazz worlds. They will be joined by Cuban pianist and composer Aldo López-Gavilán. The London Times described him as " a formidable virtuoso, but also exceeds in works that require extraordinary color and fascinating sounds." We are very excited to bring these performers to Lincoln.
Listen →
7:30 p.m., Thursday, March 3, 2022
Johnny Carson Theater
Repertoire:
Schumann: Piano Quintet, Op.44
Aldo López-Gavilán: various
Single regular ticket price: $35
Single student ticket price: $5
The Baltimore Consort
The Baltimore Consort was founded to perform the instrumental music of Shakespeare's time, music that is an inspiration and joy, just as it was for listeners in 1600. This Lincoln Friends of Chamber Music concert is a narrated collection of music from the time of Mary Queen of Scots. It will be the consort's third appearance in Lincoln and we are happy to have these old friends with us again.
Listen →
7:30 p.m., Friday, October 22, 2021
Johnny Carson Theater
Repertoire: In Angels Wede, a narrated program based on the life of Mary, Queen of Scots.
Single regular ticket price: $30
Single student ticket price: $5
Hyeyung Sol Yoon, Gregory Beaver, Soyeon Kate Lee Piano Trio

Hyeyung Sol Yoon (violin) and Gregory Beaver (cello) are best known to Friends as members of the Chiara Quartet and founders of Open Space Music. They are dedicated to fine chamber music and contemporary composers. In November they will be joined by pianist, Soyeon Kate Lee. Soyeon was the first prize winner of the 2010 Naumburg International Piano Competition and the 2004 Concert Artist Guild International Competition. She has been lauded by The New York Times as a pianist with "a huge, richly varied sound, a lively imagination and a firm sense of style," and by the Washington Post for her "stunning command of the keyboard." We are pleased to welcome these old and new friends this season.
7:30 p.m., Thursday, November 11, 2021
Johnny Carson Theater
Repertoire: Matthew Fuerst: Piano Trio
Single regular ticket price: $20
Single student ticket price: $5
Aizuri String Quartet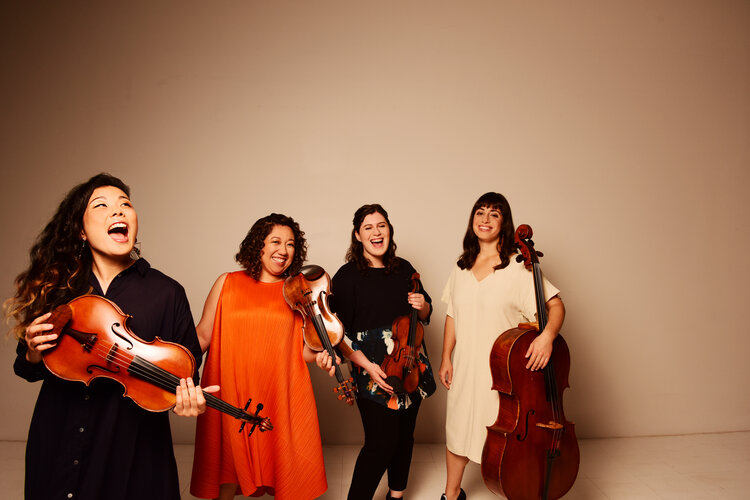 The Grammy-nominated Aizuri Quartet formed in 2012, combines four distinctive musical personalities into a unique collective. The Aizuri Quartet draws its name from "aizuri-e," a style of predominantly blue Japanese woodblock printing that is noted for its vibrancy and incredible detail.
Aizuri was the 2017-2018 MetLiveArts String Quartet-in-Residence at the Metropolitan Museum of Art, where they presented five unique programs throughout the season, leading The New York Times to applaud them as "a quartet of expert collaborators, who cogently traverse a range of repertoire staples and modern works." We enjoyed their streamed program last season, and we are very happy to see them in person this year.
Listen →
7:30 p.m., Monday, January 24, 2022
Johnny Carson Theater
Repertoire: "What's Past is Prologue" is a mix of new and old works by women composers spanning 800 years.
Single regular ticket price: $25
Single student ticket price: $5