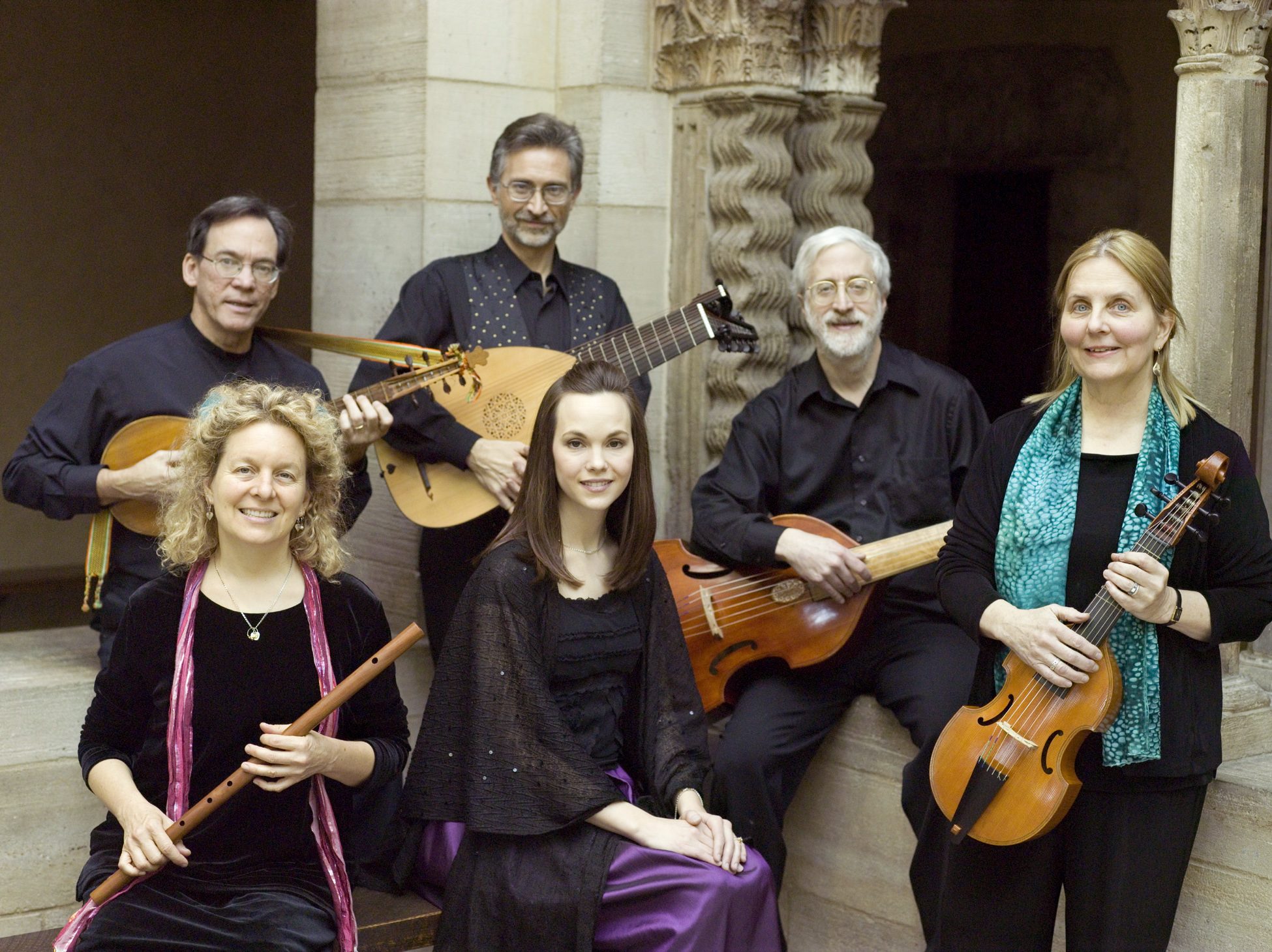 Viva fui in silvis; dum vixi tacui: mortua dulce cano.
I was alive in the woods; while I lived I was silent; now dead, I sing sweetly.
Spruce, maple, boxwood, rosewood, snakewood, sheep's gut, horse's tail, crows quill, elephant's tusk, ram's horn, and, according to legend, the shell of a tortoise—like the ingredients of a sorcerers potion, these once-living remnants of plants, birds, and animals are transformed into musical instruments and need only our breath or touch to bring them to life.
Although musical instruments have existed for millennia, the writing-down of their music was not common until circa 1500. (Vocal part-music had enjoyed a written tradition for several centuries by then.)
During a brief period around 1600, musicians in an ensemble of six instruments (referred to on the Continent as an "English Consort ) made arrangements of popular tunes and part-music for themselves to play. The English consort flourished in the City of London, in Oxford, and in other venues where serious amateur and professional music-making took place. Their instruments were the same as those of the Baltimore Consort: the "sultry" treble viol (or violin), the "ethereal" flute (or recorder), the "noble" lute, the "sprightly and cheerful" cittern, the deep bandora, and the "stately" bass viol—a combination which became known in the 20th century as a broken consort because it mixed instruments from different families. The term itself—broken consort—although invented later, nevertheless has an historic resonance: Shakespeare spoke of "broken music," by which he meant "breaking the around or devising a melody which is "broken" (made ornamental) through division into many small notes.
The Baltimore Consort was founded in 1980 to perform instrumental music of Shakespeare's time. Although later joined by a singer, the group's experience of rehearsing purely instrumentally forged its identity as an ensemble dedicated to exploiting the diverse sound colors offered by gut- and wire-strung, plucked and bowed strings, and transverse and end-blown flutes and recorders, capped reeds and percussion.
Shakespeare's music tapped into the popular repertory of the Elizabethan period—the tunes heard in taverns, on street corners, in the theater, and accompanying dancing. Thomas Morley's The First Book of Consort Lessons (1599), together with the manuscript part-books of Matthew Holmes, are the "mother" sources for consort arranging in that time, and thus provide the music which the Baltimore Consort initially performed.
Realizing that these sources demonstrated arranging techniques which could then be applied to other early tunes, the Consort began its journey through the popular music of England, Scotland, France, Germany, Italy, and Spain, as well as into the traditional music of today that is rooted in earlier times.
Having expanded upon the musical arrangements of Shakespeare's contemporaries, the Consort nevertheless enjoys returning to its origins—the English music for broken consort. The music of that time is an inspiration and joy, just as it was for listeners in 1600, as witnessed by a poem on the power of music by Richard Edwards (partially quoted in Shakespeare's Romeo and Juliet act iv, scene 5):
Where gripinge grefes the hart woula wounde,
ana dolefulle dumps the mynde oppresse,
There Musick with her silver sound
is wont with spede to give redresse.
Of troublea minde for every sore,
swete Musick hath a salve therfore.
The Baltimore Consort Members
---
Mary Anne Ballard: Viol, rebec
Mary Anne Ballard researches many of the Baltimore Consort's programs. She also plays with Galileo's Daughters (a multi-media ensemble drawing together the music of Galileo's time with narration and video projections of the heavens), Mr. Jefferson's Musicians (for which she was invited to create a program for "Soundscapes of Jefferson's America" at Monticello), the Oberlin Consort of Viols, and Fleur de Lys, a baroque ensemble in Northern Indiana. Formerly, she directed or coached early music at the Peabody Conservatory, Princeton University, and the University of Pennsylvania, where she founded the Collegium Musicum and produced medieval music drama. She is now on the faculty of Oberlin's summer Baroque Performance Institute. A resident of Indiana and New York City, she music-directed the twelfth-century Play of Daniel for the 50th anniversary of the historic first performance in modern times at The Cloisters Museum in New York.
Mark Cudek: Cittern, viol, crumhorn recorder, whistle, Renaissance guitar, percussion
Mark Cudek is Chair of the Historical Performance Department at the Peabody Conservatory of Johns Hopkins University and also Artistic Director of the Indianapolis Early Music Festival. In recognition of his work as Founder/Director of the Peabody Renaissance Ensemble and also the High School Early Music Program at the Interlochen Arts Camp, Mark received from Early Music America the 2001 Thomas Binkley Award and the 2005 Award for Outstanding Contribution to Early Music Education. He is a former member of Hesperus and has regularly performed with Apollo's Fire, The Catacoustic Consort, and Folger Consort. In his youth, he worked as a café guitarist in the Virgin Islands. Mark is the 2014 recipient of the Johns Hopkins University Alumni Association's Global Achievement Award.
Larry Lipkis: Viol, recorder, whistle, crumhorn, gemshorn
Larry Lipkis is Composer-in-Residence and Director of Early Music at Moravian College in Bethlehem PA. He has also served as Director of Pinewoods Early Music Week, and is a longtime Music Director for the Pennsylvania Shakespeare Festival. His cello concerto, Scaramouche, appears on the Koch label, and his bass trombone concerto, Harlequin, was premiered by the Los Angeles Philharmonic to rave reviews. The trilogy was completed when his bassoon concerto Pierrot was performed by the Houston Symphony. His two chamber operas, Peronelle and Simonetta, are based on the lives and loves of two medieval/Renaissance artistic luminaries—Guillaume de Machaut and Sandro Botticelli. Larry is also the Composition Competition Coordinator for the Allentown Symphony Orchestra, and directed the orchestra's "Enigma Variations" project in 2017 and in the following year, "Pictures and an Exhibition 2018." Larry often lectures on the topic of Bach and Rhetoric, speaking during recent summers at an NEH institute in Leipzig.
Ronn McFarlane: Lute
Ronn McFarlane has released over 40 CDs on Dorian and Sono Luminus, including solo collections, lute songs, lute duets, music for flute & lute, Elizabethan lute music and poetry, the complete lute music of Vivaldi, and Baltimore Consort albums. In the tradition of the lutenist/composers of past centuries, Ronn has composed new music for the lute. These original compositions are the focus of his solo CD, Indigo Road, which received a Grammy Award Nomination in 2009. Other recent CD releases, One Morning, and Barley Moon, feature "Ayreheart," a new ensemble brought together to perform Ronn's music. Nine Notes that Shook the World highlights duets with Mindy Rosenfeld, flute, harp, bagpipe. Ronn's newest solo album, The Celtic Lute, features his arrangements of traditional Scottish and Irish music from the 17th and 18th centuries.
Mindy Rosenfeld: Flute, fife, bagpipes
A founding member of The Baltimore Consort, Mindy plays historic and modern flutes; recorders, whistles, crumhorns, bagpipe and early harp. A member of San Francisco's Philharmonia Baroque Orchestra, she has performed under director Nicholas McGegan and guest conductors William Christie, Jordi Savall, Gustav Leonhardt, Andrew Parrott, Andrew Manze, Bernard Labadie and Trevor Pinnock; recorded extensively; and appeared in Lincoln Center's Mostly Mozart Festival, the Berkeley Early Music Festival, BBC Proms (Royal Albert Hall), Concertgebouw (Amsterdam) and both Carnegie and Disney Halls. Principal Flutist with the Mendocino Music Festival Orchestra, as a guest artist Mindy has performed with American Bach Soloists, Musica Angelica, San Diego Bach Collegium, Catacoustic Consort, Apollo's Fire, Portland Baroque Orchestra, Oregon and Carmel Bach Festivals and Opera Lafayette, among others. With an MM from San Francisco Conservatory and a BM from the Peabody Conservatory, Mindy divides her time between performing, teaching, and a crazy amount of driving to and from her coastal Northern California home.
Danielle Svonavec: Guest Artist, Soprano
Danielle Svonavec is a graduate of the University of Notre Dame (BS in mathmatics, 1999, and MM in Voice, 2003). While still a student, she stepped in on short notice as soloist for the Baltimore Consort's nine-concert 1999 Christmas tour. Since then she has toured with the Consort and appeared with the Smithsonian Chamber Players, Pomerium, the South Bend Chamber Orchestra, and the South Bend Symphony. The mother of three teen-age girls, she leads a busy life, currently serving as the Cantor at the Basilica of the Sacred Heart at Notre Dame, and teaching Middle School music at the Trinity School Greenlawn in South Bend, where she is also Dean of Junior High Girls. Danielle lives with her family on a farm near Goshen, Indiana, and is frequently called on as a soloist locally, performing virtuosic cantatas and arias with the baroque ensemble, Fleur de Lys in South Bend, and solos with local choruses performing works by Handel and Haydn.