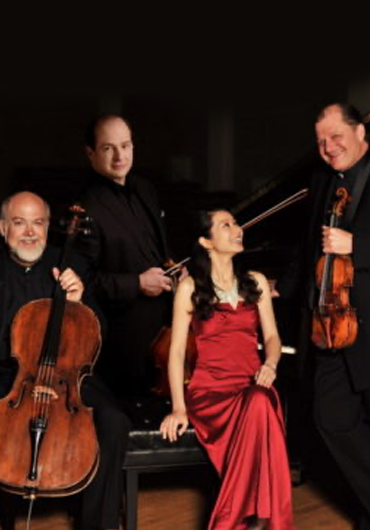 The Amara Piano Quartet is the successor to the Ames Piano Quartet, whose distinguished performing history spanned the last thirty-six years. Upon the retirement of two of its original members in 2012, the Quartet was renamed "Amara," a name connoting mythic paradise in Abyssinian.
In the six years since its inception, the Amara Piano Quartet has shown a deep commitment to performing new music. One of its earliest projects was a concert of George Tsontakis' chamber works, for which the composer traveled to Iowa State University, where the Quartet is in residence. This led to the Quartet's première recording of George Tsontakis' Piano Quartet #3, which was released in November 2016. Also featured on that disc are 20th and 21st century American pieces by Paul Schoenfield, Walter Piston, and Lee Hoiby (commissioned for the Ames Piano Quartet by the Ames Town and Gown Chamber Music Association in 2001.) Gramophone magazine described the performances as "play[ed] with vibrant and sensitive expressivity," and "invest[ed] with exceptional commitment and polish." The American Record Guide describes the Amara's performances as "played with striking intensity," while Fanfare variously describes them as "stellar, "compelling," and notes that "the players' control of their instruments at lowest dynamic is remarkable."
A second notable collaboration was with Texas Tech University composer Peter Fischer, whose 2015 Piano Quartet was written for the Amara Piano Quartet. The group gave dual première performances of the new Quartet in Iowa and Texas in February 2016.
The Amara Quartet performs the masterpieces from the standard repertoire as well as new music (the group's new recording of the two Fauré Piano Quartets is scheduled for release in August 2018.) It also continues to research unjustly neglected piano quartets from the past. Like its predecessor the Ames Piano Quartet, the Amara performs little-known gems such as the Suk Piano Quartet, the Frank Bridge Phantasy, the Herbert Howells Piano Quartet, and similar. The Amara Piano Quartet is managed by Joanne Rile Artists Management, of Philadelphia.
Amara Piano Quartet Members
---
Mei-Hsuan Huang
Pianist Mei-Hsuan Huang is Associate Professor of Piano at Iowa State University and a member of the Amara Piano Quartet.  Huang has been a prizewinner in several international piano competitions, including the USASU International Piano Competition in Tempe, Arizona, the 57th Wideman Piano Concerto Competition in Shreveport, Louisiana, and the International Chopin Piano Competition in Taipei, Taiwan. She regularly performs over fifty solo and chamber recitals every year in Europe, States, Canada and Taiwan. She has been invited to summer festivals including the 2006 Aspen Music Festival, the 2007 Pianofest in the East Hamptons, the 2008 Orford Music Festival, Quebec, the 2010 Atlantic Music Festival in Maine, the 2012 CICA Eureka Springs International Music Festival in Arkansas, and the 2012 and 2013 Banff Music Festival, Alberta. Festivals increasingly ask for her presence on their artist rosters. Recently, Huang also was presented in a piano recital in National Taiwan Concert Hall (Taipei), as a result of being nominated for the prize of "Excellent Musician Series" by ProArtist.
In 2013, Huang performed George Gershwin's Rhapsody in Blue with the Central Iowa Symphony, Robert Schumann's Piano Concerto with the Iowa State University Orchestra, and Camille Saint-Saëns' Carnival of the Animals with the Des Moines Symphony. She also travelled with the Amara Quartet to perform at the Colours of Music Festival in Barrie, Ontario and on concert series in Illinois, Virginia, Michigan, Ohio, and Texas. The quartet released compact disc on the Fleur de Son label in 2016, a recording of American quartets that will feature the piano quartet by George Tsontakis' piano quartet No. 3, Dark Rosaleen—written by Lee Hoiby for the Ames Piano Quartet—a piano quartet by Walter Piston and Carolina Reveille by Paul Schoenfield. The quartet will release compact disc on the Fleur de Son label including two Fauré piano quartets in 2018.
Huang received her bachelor's degree at The National Taiwan Normal University, where, she won the prestigious Xing Tang Temple Piano Competition Prize. She received her master's degree at the Cleveland Institute of Music, where she studied with Sergei Babayan, Margarita Shevchenko, and Paul Schenly. She received her doctorate of musical arts degree at The Ohio State University under full-scholarship.
Huang is on piano faculty at The Atlantic Music Festival in Maine and guest pianist at Caroga Music Festival in New York during the summer.
Huang was named a Steinway & Sons Artist since 2014.
Borivoj Martinić-Jerĉić
A recipient of the prestigious Yehudi Menuhin Award, violinist Borivoj Martinic-Jercic has enjoyed an illustrious career. Born in Zagreb, Croatia, he graduated from the Blagoje Bersa Conservatory of Music in 1978, where he studied with Kristijan Petrović.
Mr. Martinic-Jercic received his Bachelor and Master of Music degrees from the University of Michigan, under the guidance of Professors Paul Makanowitzky and Ruggiero Ricci. His numerous solo and chamber music performances have taken him throughout the United States, Canada, Asia and Europe. In addition to appearances with the Orpheus Chamber Orchestra and the Detroit Contemporary Chamber Ensemble, "Boro" served as Concertmaster of the Phoenix Symphony for fifteen years and the Concertmaster of the Santa Fe Opera Orchestra from 1995-2017.
For the last five years he has been the Music Director and Concertmaster of I Solisti di Zagreb, and Professor of Violin at the Academy of Music at the University of Zagreb. During his tenure with I Solisti di Zagreb he performed over three hundred concerts worldwide. In 2009 Mr. Martinic-Jercic and I Solisti di Zagreb released a CD of Vivaldi's Four Seasons on the EDI label. In 2011 Naxos label released a CD of the Puerto Rican composer, Ernesto Cordero, Carribean Concertos with I Solisti di Zagreb, Maestro Pepe Romero and Guillermo Figueroa.
He has performed with such eminent artists as Ivo Pogorelich, Pepe Romero, Zoran Dukic, Ana Vidovic, Radovan Vlatkovic, Yo Yo Ma, Giovanni Sollima, Julius Berger, Marc Coppey, Bozo Paradik, Pinchas Zukerman, Itzhak Perlman, Hilary Hahn, Joshua Bell, Gil Shaham and Guillermo Figueroa.
"Boro" is an Associate Professor of Violin at Iowa State University and the violinist of the Amara Piano Quartet.
Nicolò Eugelmi
Violist Nicolò Eugelmi enjoys an international career that features acclaimed solo, orchestral, and chamber performances throughout North America and Europe at many of the world's most prestigious venues, in collaboration with a rich cadre of preeminent artists and ensembles. He is a champion of the music of our time and has presented several important premieres. His performances and recordings have been met with much praise and have garnered him reviews and accolades in leading arts publications across the globe.
Mr. Eugelmi's recitals and collaborations have brought his remarkable artistry to many of the world's finest venues, including the Amsterdam Concertgebouw, Berlin Philharmonie, Carnegie Hall, Kennedy Center, and Lincoln Center. Much in demand as an orchestral soloist, Mr. Eugelmi has appeared with the Edmonton, Montreal and Vancouver Symphony Orchestras, the CBC Radio Orchestra, and the Orchestre Métropolitain.
Mr. Eugelmi has given many Canadian, US, and world premieres, such as John Harbison's Viola Concerto (CBC Radio Orchestra); Hindemith's Der Schwanendreher (Orchestre Symphonique de Montréal); Gavin Bryars' The North Shore ( CBC Radio Orchestra); Miguel del Aguila's Concierto en Tango for Viola and Orchestra (Music in the Mountains); as well as his own commission from the late Jacques Hétu, Concerto pour Alto et Orchestre, Op. 75 (Orchestre Symphonique de Trois-Rivières).
Mr. Eugelmi's acclaimed discography has earned him much praise from many of today's leading arts publications and garnered several awards and distinctions, including recognition from The Strad and Gramophone magazines, as well as a JUNO nomination and a Prix Opus.
As a chamber musician, Mr. Eugelmi has been a member of the Fine Arts Quartet and has toured extensively throughout Europe and North America, including performances at Amsterdam's Concertgebouw, New York's Lincoln Center, and Washington DC's Kennedy Center. Mr. Eugelmi has collaborated with renowned chamber musicians such as violinists Martin Beaver, Andrew Dawes, and Régis Pasquier; violists Guillermo Figueroa and Paul Neubauer; cellist Arto Noras; pianists Joseph Kalichstein and Menahem Pressler, and the Talich Quartet and Vlach Quartet Prague.
Mr. Eugelmi, currently serving as the guest principal violist of the Toronto Symphony, has also held the positions of associate principal violist with the Vancouver Symphony and Orchestre Symphonique de Montréal, and principal violist with the Canadian Opera Company in Toronto.
George Work
George Work, professor of cello at Iowa State University, holds his bachelor's and master's degrees of music and a performer's certificate from the Eastman School of Music, where he also served as teaching assistant to Robert Sylvester. His principal teachers include Robert Sylvester, Paul Katz, Ronald Leonard, Gabor Rejto and Carol Work.
In 1981, he joined the Ames Piano Quartet, in residence at Iowa State University. In the course of its career, the Quartet released fourteen critically acclaimed CD recordings, one on the Musical Heritage label, five on Albany Records, and the others on Dorian/Sono Luminus Recordings. The Ames Quartet appeared regularly in concert throughout the United States and Canada. International appearances included Salzburg, Austria, Paris and Marseilles, France, Taipei, Tainan, Kashiong and Taichung, Taiwan, Merida, Mexico, Havana, Cuba and Kaliningrad, Russia. The group was also featured on NPR's "Performance Today," WQXR's "The Listening Room," and appeared on a special edition of "St. Paul Sunday" commemorating the 50th anniversary of WOI radio. This latter led to an invitation to tape a second "St. Paul Sunday," which aired nationally for the first time in November 1999. In 2012, following the retirement of two long-time members, the Quartet was renamed the Amara Piano Quartet. It continues to concertize throughout the US under the new name and has recently released its first commercial CD on the Fleur de Son label.
George Work has appeared as soloist with numerous orchestras in the Midwest, as well as in Taiwan, R.O.C. and Kaliningrad, Russia. His recording of the Ibert Concerto for Cello and Winds was released in 2012 to critical acclaim. A faculty member at the Brevard Music Center in North Carolina from 1998-2002, George Work was also chosen to be an artist faculty member at the first-ever Schlern International Music Festival, held in Voels am Schlern, Italy, in the summer of 2003. In addition to concertizing with the Ames Piano Quartet, George Work is also a member of the Belin String Quartet and the Des Moines Symphony. In 2016, he became the first-ever recipient of the Jean Bacon Louis Faculty Fellowship.