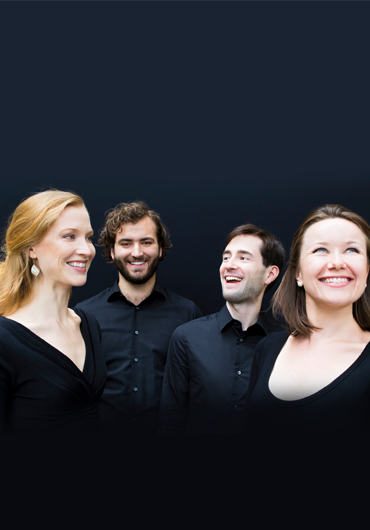 Diderot String Quartet on Period Instruments—named after the prominent eighteenth-century French philosopher and Boccherini enthusiast Denis Diderot—came together in 2012 after having met at Oberlin Conservatory and The Juilliard School. The four musicians share a background in historical performance and a passion for the string quartet genre; they quickly found the thrill of exploring the latter repertoire on period instruments to be irresistible. Diderot String Quartet brings a fresh approach to both familiar and lesser-known works of the eighteenth and nineteenth centuries.
Recent and upcoming engagements for DSQ include Music Before 1800 (New York City), Renaissance & Baroque (Pittsburgh), Carmel Bach Festival, St. Cecilia Music Series (Austin, Texas) and Great Performances at the Toledo Museum of Art. In the 2017–2018 season, Diderot made its Canadian debut with Early Music Vancouver and Friends of Chamber Music Vancouver, followed by a concert with Early Music Society of the Islands in Victoria, British Columbia. The quartet also enters its third year as Quartet in Residence at the Washington National Cathedral.
Diderot has served as guest faculty for Oberlin's Baroque Performance Institute, and been in residence at Aldeburgh Music in the U.K and Holy Trinity Lutheran Church (New York City), and has performed at the Metropolitan Museum of Art and Cambridge Society of Early Music. Other notable events include the recent premiere of DSQ's first commissioned work—Small Infinities by composer Lembit Beecher—and the forthcoming release of the group's debut album in Spring 2018.
Diderot String Quartet Members
---
Adriane Post
Adriane Post, violin, formed her first quartet at age 11 and found her love of chamber music. She can be heard as leader of Washington National Cathedral Baroque Orchestra, founding member of ACRONYM Ensemble, member of Apollo's Fire and Handel&Haydn Society, as a regular with Trinity Wall Street Baroque Orchestra and performing with many period instrument ensembles across the US. Described as one of North America's "brightest and best" by Early Music America, Adriane has received a fellowship from The English Concert and has performed with Les Arts Florissants and William Christie in Thiré, France, and as concertmaster for Nicolas McGegan and Jordi Savall with Juilliard 415.
Recent performances include Spoleto USA, Tanglewood, The BBC Proms and the Carmel Bach Festival.  Adriane received her BM from Oberlin Conservatory and her MM from The Juilliard School's Historical Performance program.  A proud Vermonter, Adriane admits to residing happily in Brooklyn with her husband, Paul Dwyer.
Johanna Novom
Johanna Novom, violin, grew up in the woods of New Hampshire and is currently based in Brooklyn. Her unusual schooling encouraged a variety of artistic inclinations that she thrives on to this day.  She began playing the violin at ten, and the collaborative, communicative aspects of music have always inspired her, making chamber music an obvious priority. Johanna discovered baroque violin while pursuing her BM with Marilyn McDonald at Oberlin, and went on to achieve a Master's in Historical Performance. She also spent a fellowship year in the Yale Baroque Ensemble under Robert Mealy.
First prize winner of ABS' 2008 International Young Artists' Competition, Johanna is Associate Concertmaster of Apollo's Fire in Cleveland, and performs with many period ensembles, including Trinity Wall Street Choir and Baroque Orchestra, Boston Early Music Festival Orchestra, TENET, Concert Royal, Washington National Cathedral Baroque Orchestra, ACRONYM, and the Sebastian Chamber Players.  Recent festival engagements include the Carmel Bach Festival, the Boston Early Music Festival, the Tanglewood Festival, and the BBC Proms.
Kyle Miller
Kyle Miller, viola, made his concerto debut in 2005 with the Reading (Pennsylvania) Symphony Orchestra as 'the dog' in P. D. Q. Bach's Canine Cantata, 'Wachet Arf!'. Since that day, Kyle has gone on to study at the New England Conservatory, the Eastman School of Music, and The Juilliard School, the last at which he earned master's degrees in both viola performance and historical performance. Kyle's home base is New York City, and he freelances both in the Big Apple and abroad. A founding member of ACRONYM, Diderot String Quartet, and New York Baroque Incorporated, Kyle also has appeared in concert with Apollo's Fire, the Bach Players of Holy Trinity, Clarion Orchestra, the English Concert, Four Nations Ensemble, House of Time, Quodlibet Ensemble, the Sebastians, Tafelmusik Baroque Orchestra, and Trinity Baroque Orchestra. Kyle was selected to be an English Concert American Fellow in 2015, and he has performed at the Carmel Bach Festival. In his spare time, Kyle enjoys eating freshly baked cookies whilst playing artisanal board games.
Paul Dwyer
Paul Dwyer, cello, was born in Munster, Indiana, but spent the most formative years of his life (according to Freud) in Vienna, where he decided to play the double bass, but was told he's too small.  At age eight his family moved to Munich, where Paul spent most of his time playing soccer, running subversive school newspapers and transcribing Metallica songs for a heavy metal cello quartet he formed with his best friends.
Paul followed his roots back to the American Midwest for college, studying at the Oberlin Conservatory (B.M. '07) and the University of Michigan (M.M. '08; D.M.A. '12), where he was the recipient of a Javits Fellowship and Presser Award, before spending a year in Amsterdam as a Fulbright Fellow studying new music with Frances-Marie Uitti and baroque cello with Anner Byslma. In 2013, he completed additional graduate studies in the Historical Performance department of The Juilliard School. Paul is fortunate to have a rich musical life playing both historical and modern cello.
Paul loves to play chamber music and collaborate with young composers. He is a founding member of the DSQ and ACRONYM and plays with ensembles such as Trinity Wall Street Baroque Orchestra, the Handel & Haydn Society Orchestra and House of Time.  In the fall of 2015, he was appointed Assistant Principal cello of Lyric Opera of Chicago.  He lives with his wife, Adriane in Brooklyn.