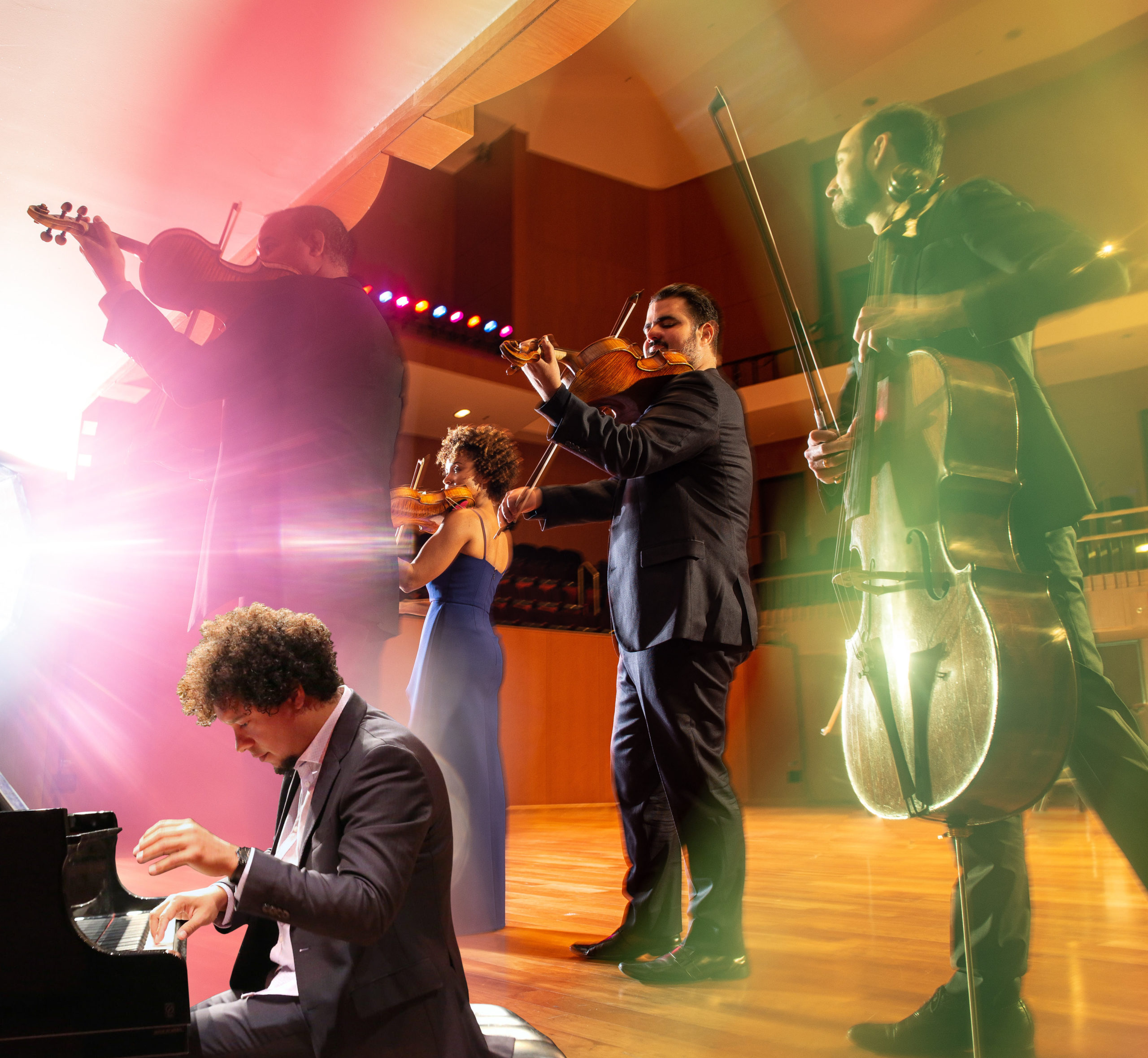 New York-based Harlem Quartet (Ilmar Gavilán and Melissa White, violin; Jaime Amador, viola; Felix Umansky, cello) has been praised for its "panache" by The New York Times and hailed in the Cincinnati Enquirer for "bringing a new attitude to classical music, one that is fresh, bracing and intelligent." Since its public debut in 2006 at Carnegie Hall, the ensemble has thrilled audiences and students in 47 states as well as in the U.K., France, Belgium, Brazil, Panama, Canada, Venezuela, Japan, Ethiopia, and South Africa.
Harlem Quartet's programming combines standard string quartet literature with jazz, Latin, and contemporary works. Its collaborative approach to performance is continually broadening the ensemble's repertoire and audience reach through partnerships with other musicians from the classical and jazz worlds. It also maintains an ongoing commitment to residency activity and education. The quartet began a multi-year residency with London's Royal College of Music in 2018. Since 2015 it has led an annual workshop at Music Mountain in Falls Village, Connecticut. In 2021 it was named inaugural Grissom Artist in Residence at Centre College in Danville, Kentucky. And a residency at New Jersey's Montclair State University begins in the 2021-22 season.
Recent and upcoming concert highlights include appearances with bassist John Patitucci at Wheaton College (Wheaton, Illinois) and Chamber Music Concerts (Ashland, Oregon); with pianist Michael Brown at Friends of Chamber Music (Denver, Colorado); and with Cuban pianist/composer Aldo López-Gavilán at venues across the U.S. The quartet's recording career began in 2007 with Take the "A" Train, a release featuring the string quartet version of that jazz standard by Billy Strayhorn. It collaborated with jazz pianist Chick Corea in a Grammy-winning Hot House album that included Corea's "Mozart Goes Dancing," which won a separate Grammy as Best Instrumental Composition. Its latest release, a July 2020 album called Cross Pollination, features works by Debussy, William Bolcom, Dizzy Gillespie, and Guido López-Gavilán. Harlem Quartet is represented worldwide by Sciolino Artist Management.
Aldo López-Gavilán has appeared in such prestigious U.S. concert halls as New York's Carnegie Hall and Lincoln Center, Boston's Jordan Hall, Seattle's Benaroya Hall, Washington's Kennedy Center, and Miami's Adrienne Arsht Center, as well as at major venues in Europe, the U.K., Cuba, Mexico, South America, and Canada. Aldo and his brother Ilmar Gavilán, first violinist of New York-based Harlem Quartet, are featured in the new documentary Los Hermanos / The Brothers, which tells the story of their shared childhood, their momentous first performances together, and their parallel lives as musicians; it includes a genre-bending score composed by Aldo, concert footage of him performing with Harlem Quartet, and guest appearances by such legendary musicians as Joshua Bell. Los Hermanos is screening at film festivals worldwide and will be nationally broadcast on PBS in the fall of 2021. Aldo's U.S. concert activity in the 2020-21 season included a recital sponsored by Detroit's CameraMusic, in which he performed his own works in partnership with his violinist brother Ilmar, and two performances sponsored by the West Michigan Symphony: a solo recital at The Block and a return engagement with the orchestra for a performance of his piano concerto Emporium. Three U.S. tours with Harlem Quartet are planned for 2021-22.
Ilmar Gavilán, Violinist
Violinist Ilmar Gavilán, a native of Havana, Cuba, has had a remarkable career that has taken him all over the world. He has performed for Queen Sofia of Spain, and, as a founding member and first violinist of Harlem Quartet, for President Barack Obama at the White House and in concerts and community engagement activities throughout the U.S. and abroad. As a chamber musician Mr. Gavilán has participated in the Tanglewood, Ravinia, and Angel Fire music festivals, and as a soloist has played with the Atlanta, New Jersey, Baltimore, Detroit, Milwaukee, St. Louis, Hartford, Nashville, Phoenix, and Mexico City symphonies, among others. His U.S. solo debut recording, Aires y Leyendas, and his album Por el mar de las Antilles anda un violín—which comprises music by his father, Guido López-Gavilán, including a violin concerto dedicated to him— are available on Amazon and iTunes. Ilmar and his brother, Cuban pianist and composer Aldo López-Gavilán, are featured in the new documentary Los Hermanos / The Brothers, which tells the story of their shared childhood, their momentous first performances together, and their parallel lives as musicians. Los Hermanos is screening at film festivals worldwide and will be nationally broadcast on PBS in the fall of 2021. Mr. Gavilán is a first-place laureate in the Sphinx Competition and a prizewinner in the Lipinski-Wieniawski and Henryk Szeryng international violin competitions. He received his training at Havana's Manuel Saumell Conservatory, the Tchaikovsky Conservatory in Moscow, the Reina Sofia School of Music in Spain, Manhattan School of Music, New England Conservatory, and Rutgers University, where he earned a D.M.A. degree as a student of Arnold Steinhardt.
Melissa White, Violinist
Violinist Melissa White has enchanted audiences and critics around the world as both a soloist and a chamber musician. She is a founding member of New York-based Harlem Quartet, with which she has performed and engaged in educational activities throughout the U.S., as well as in Europe, Africa, Japan, and the United Kingdom, since the quartet's inception in 2006. In March 2021 she made her debut with the Cincinnati Symphony Orchestra under Music Director Louis Langrée, and in April 2021 she debuted with the Albany (NY) Symphony Orchestra as soloist in George Tsontakis's Violin Concerto No. 2 led by Music Director David Alan Miller. Her recent orchestral activity also includes debuts with the Richmond, Baton Rouge, Monroe, Pasadena, Knox-Galesburg and Johnson City symphony orchestras, and return engagements with the National Philharmonic, the Lansing Symphony Orchestra, and the Chicago Sinfonietta. A first-prize laureate in the Detroit-based Sphinx Competition, Ms. White has performed with such leading U.S. ensembles as the Cleveland Orchestra, the Boston Pops, the Louisville Orchestra, and the Atlanta, Baltimore, Colorado, Detroit, and Pittsburgh symphony orchestras. In fall 2020 she joined the Music Artist Faculty at New York University's Steinhardt School of Culture, Education and Human Development. A native of Michigan, she holds performance degrees from the Curtis Institute of Music and New England Conservatory, where her teachers included Jaime Laredo, Ida Kavafian, Donald Weilerstein, and Miriam Fried. Her current instrument, "Matilda," was commissioned as part of a Sphinx MPower Artist Grant in 2014 by the American violin maker Ryan Soltis. Melissa White is represented worldwide by New York-based Sciolino Artist Management.
Jaime Amador, Violist
Hailed by The Washington Post for his "sophisticated and precise playing," Violist Jaime Amador has distinguished himself among the latest generation of musicians to emerge from Puerto Rico. He has been the violist of Harlem Quartet since 2012, and is also a member of the flute-viola-guitar ensemble Trio Virado, which he joined in 2021. A native of San Juan, Puerto Rico, Mr. Amador has appeared in prestigious venues across the United States and Europe, including Carnegie Hall, Avery Fisher Hall, the Palais des Beaux-Arts in Brussels, and the Kurhaus of Baden-Baden. He has collaborated with such distinguished musicians as Chick Corea, Ida Kavafian, Fred Sherry, Emanuel Borok, and Misha Dichter. Mr. Amador has performed and taught at numerous venues including the Royal College of Music (London), Accademia Musicale Chigiana (Siena, Italy), Escuela Superior de Música Reina Sofía (Madrid), FOSJA Youth Festival (San Juan), Meadowmount School of Music (Westport, New York), and the New Jersey Academy of Music. In addition to leading masterclasses in Puerto Rico and across the U.S., he has made outreach programs a priority, bringing music to those with limited opportunities and to a society in need of healing through the arts. Before joining Harlem Quartet Mr. Amador was a member of the Puerto Rico Symphony Orchestra, which also awarded him First Prize in its Solo Competition for his interpretation of Béla Bartók's Viola Concerto. Following studies at the Puerto Rico Conservatory of Music and continued his training at The Juilliard School, Manhattan School of Music, and New England Conservatory. His instrument is a Ryan Soltis 2010 viola
Felix Umansky, Cellist
Praised for his "sublime" playing by Cleveland Classical, cellist Felix Umansky is a frequently sought-after recitalist and pedagogue. His versatile career has taken him all over Europe and North America, where he has performed in some of the most prestigious concert halls including Carnegie Hall, Lincoln Center, the Kennedy Center, and the Metropolitan Museum of Art. As the cellist of Harlem Quartet, Mr. Umansky is currently Artist-in-Residence at Montclair State University and London's Royal College of Music. An avid supporter of contemporary music, he has performed and premiered works by such living composers as William Bolcom, John Corigliano, Kelly-Marie Murphy, Vivian Fung, John Harbison, Chen Yi, Aaron Jay Kernis, and Chick Corea, among many others. He has been an artist-in-residence at Yale University and Caramoor Center for Music and the Arts, and has performed and given masterclasses at the University of Idaho, University of Iowa, University of Wyoming, and Utah State University. His festival appearances have included Aspen, La Jolla, Music Mountain, the Perlman Music Program, Music at Port Milford (Ontario), Highlands-Cashiers (NC), Madison (GA), and Amelia Island (FL). One of Mr. Umansky's missions as a performer is to bring a wide range of music to as many audiences and communities as possible. A native of Carmel, Indiana, he holds Bachelor's and Master's degree from the Cleveland Institute of Music and an Artist Diploma from Yale University. Mr. Umansky currently resides in Westchester County, NY with his wife, violinist Amy Schroeder. They perform regularly as the Schroeder Umansky Duo and enjoy going on scuba-diving adventures together. Mr. Umansky performs on an 1850 J.B. Vuillaume cello, generously on loan to him.
Aldo López-Gavilán, Pianist and Composer
Cuban pianist and composer Aldo López-Gavilán was born in Havana to a family of internationally acclaimed classical musicians. Praised for his "dazzling technique and rhythmic fire" in the Seattle Times and dubbed a "formidable virtuoso" by The Times (London), he excels in both the classical and jazz worlds as a recitalist, concerto soloist, chamber-music collaborator, recording artist, and performer of his own electrifying jazz compositions.