---
"…breaking down boundaries and smashing the image that string quartets are boring, stuffy and for stuck up toffs…"
 — Review Grave Yard
---
Axiom Quartet
3:00 pm
Sunday, January 22, 2023
$35 Regular | $5 Student
Complimentary Streaming for Ticket Holders
---
Program
This Sunday matinée features the music of Schubert, Shostakovich, Beethoven and Brahms.
---
---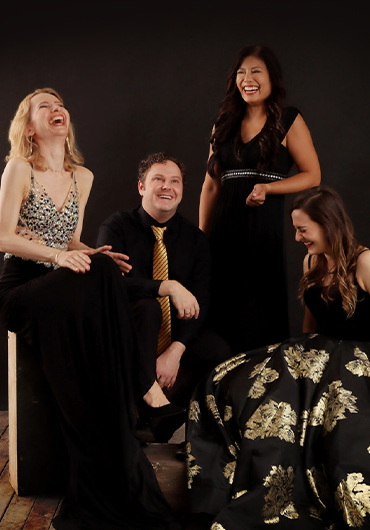 ---
Franz Schubert (1797-1828)
String Quartet in C Minor, D. 703 "Quartettsatz" (1820)
---
---
Dmitri Shostakovich (1906-1975)
String Quartet No. 8 in C Minor, Op. 110 (1960)
Largo

Allegro Molto

Allegretto

Largo

Largo
---
---
---
Johannes Brahms (1833-1897)
Intermezzo from Six Klavierstücke Op. 118 (1893) (arr. Jeffrey Alan Freed b. 1959)
---
---
Ludwig van Beethoven (1770-1827)
String Quartet in F Minor, Op. 95 "Serioso" (1810)
Allegro con brio

Allegretto ma non troppo

Allegro assai vivace ma serioso

Larghetto espressivo - Allegretto
---
---
Program notes by Hunter Capoccioni
---
Francis Poulenc (1899-1963)
Trio for Oboe, Bassoon and Piano
---
Alfred Schnittke (1934-1998) (arr. M. Krutik)
Suite in the Old Style
Pastorale
Ballet
Minuet
Fugue
Pantomine
---
Dmitri Shostakovich (1906-1975) (arr. Anatoly Trofimov)
Romance, op.97a
A Spin Through Moscow
---
---
Viet Cuong (b.1990)
Explain Yourself (2019)
Commissioned for the Poulenc Trio by the Barlow Endowment for Music Composition
---
Tom Benjamin (b. 1940)
Three Études After Whitman (2003)
Lament
Valse Triste/Valse Oubliée
Perpetuum Mobile
Written for the Poulenc Trio
OR
Gioacchino Rossini (1792-1878) (arr. Charles Triébert & Eugène Jancourt)
Fantaisie Concertante on themes from Semiramide
---
---
---
Founded in 2012, the Axiom Quartet is a Houston-based ensemble, renowned across Texas for their ability to perform diverse repertoire at an high professional level. The core of Axiom's artistic work centers around the classical mainstream canon and is one of the few string quartets in Houston dedicated to detailed and passionate performances of works by the great masters of classical music. Their 2022-2023 season includes performances of string quartets by Haydn, Beethoven, Brahms, Shostakovich, Tanayev, Szymanowski, and Weinberg. In addition to this classical core, Axiom Quartet seeks to expand the audience's perception of the string quartet by incorporating other musical styles into their performances. Recent projects include a Tango program with the renowned Argentinian bandoneonist and composer J.P. Jofre, a concert of Scandinavian folk tunes, and Axiom's famous "Jukebox" concerts around Houston's popular gathering spaces, where audiences can request pop songs from the past decades straight from the Quartet's extensive songbook of popular and jazz arrangements.
Axiom Quartet is a member of the Texas Commission for the Arts Touring Roster for 2022-2023. The group is available for hire to perform their diverse programs for Texas presenters. Axiom also enjoys engaging locally with the public through various collaborations, as well as performing for special occasions including events, house parties, and weddings. For more information about Axiom Quartet and their offerings please send us an email, info@axiomquartet.com.
---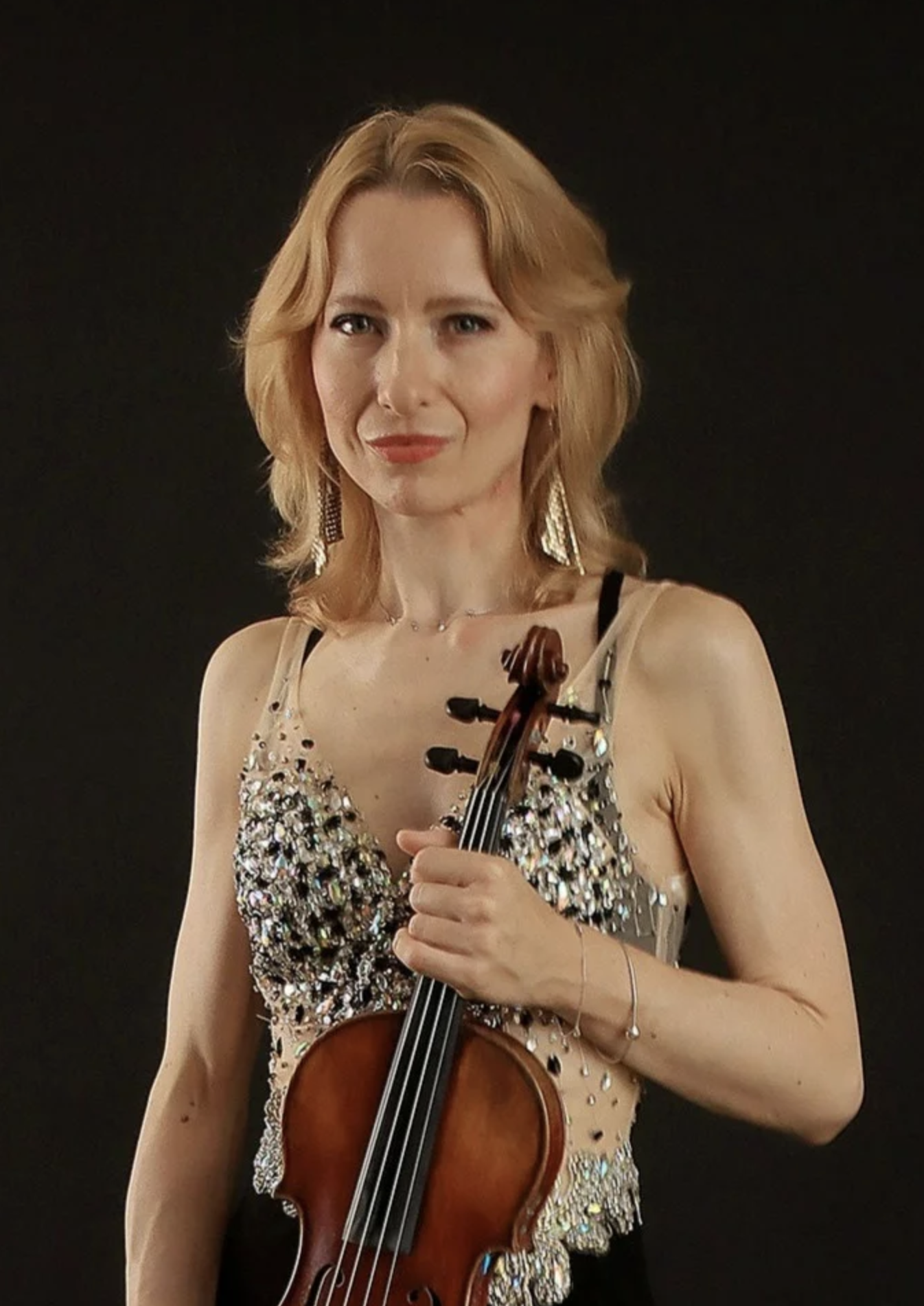 ---
Dominika Dancewicz, Violinist
Dominika is originally from Poland. She completed violin performance degrees at the Music Academy in Krakow (Poland), Rice University Shepherd School of Music in Houston, TX, and Denver University Lamont School of Music. With various ensembles, she has performed on the world's most prestigious stages including the Berlin Philharmonic, Concertgebouw in Amsterdam, Salle Pleyel in Paris, Kennedy Center in Washington, D.C., and Carnegie Hall in New York.
​Dominika has performed with groups in Houston and beyond: Sinfonietta Cracovia, Sinfonia Varsovia, New World Symphony, ROCO, Houston Ballet, Foundation for Modern Music, Opera Vista, Aperio Americas, Musiqua, to name just a few. In 2016 she was appointed the Concertmaster of the Opera in the Heights Orchestra in Houston.
​She grew up in a household of professional musicians but the violin was ultimately chosen for her. Her entire family concertized and gained notoriety in their native Poland as a Family String Quartet.
​When not playing the violin Dominika teaches violin to students of all ages and levels (including adults). She loves visual arts, and she recently started designing her own digital art. She enjoys traveling, as well as spending time in nature. She does her best to cook at home and has been a vegetarian for almost three decades.
​Dominika is the founding member of Houston-based acclaimed groups: Axiom Quartet and Duo Dramatique. She has released two full-length albums with her piano partner Donald Doucet. Most recently she released her second violin-piano album "Crossroads" with the Navona label.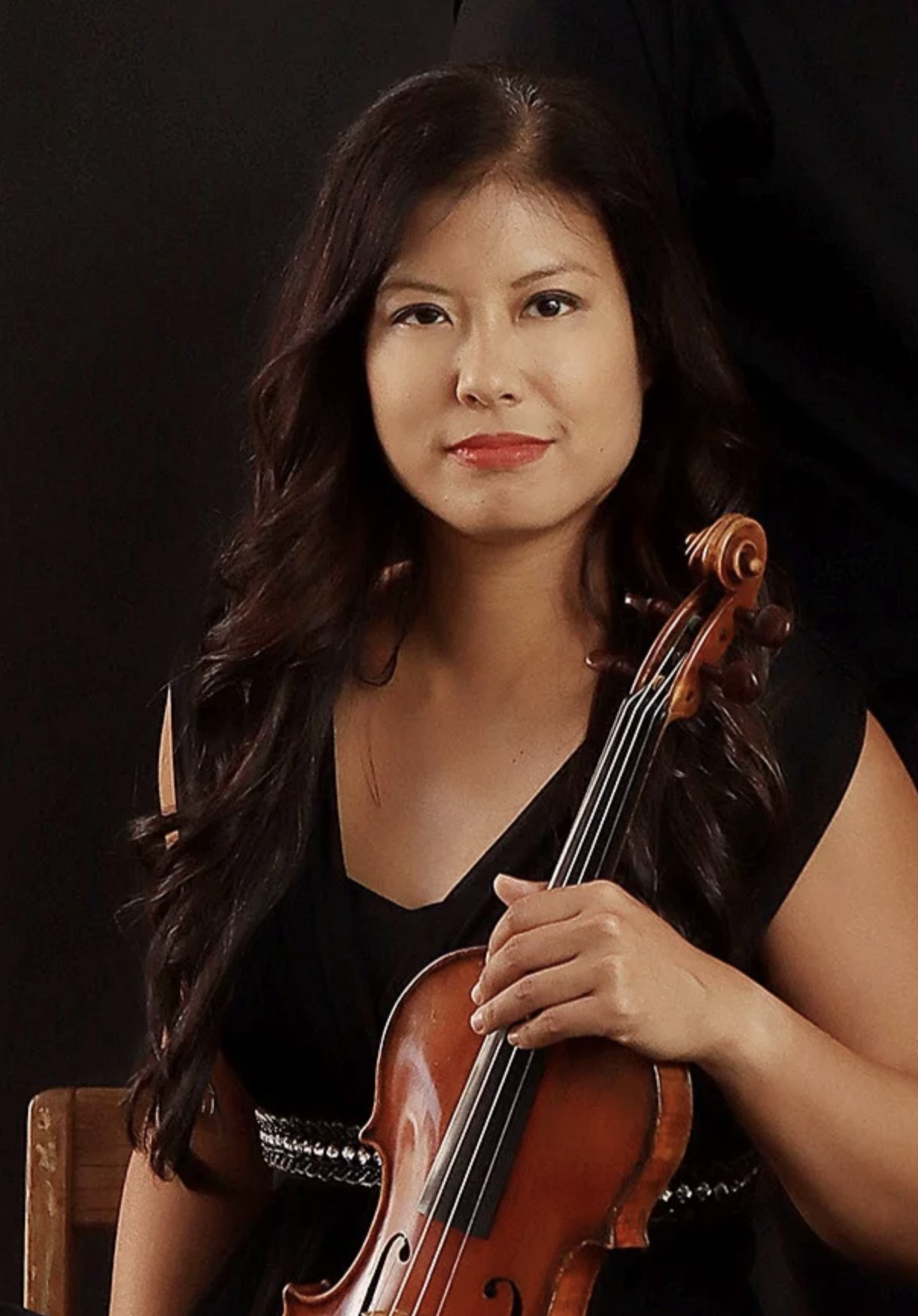 ---
Maxine Kuo, Violinist
Maxine is a Texas native and is the newest member of the Axiom Quartet.
Ms. Kuo began her career as lead violinist of the Sybarite5 string quintet in New York before joining the Louisville Orchestra as assistant concertmaster. She then backpacked for two years, eventually landing back in Houston, where she now performs with the Houston Symphony as a contract and substitute violinist. Maxine strongly believes in expanding the classical music audience - she is a founder of the chamber music open-mic night Classical Revolution Houston.
Maxine also reaches new ears crossing over on the electric violin, most recently performing as a guest artist with the EDM groups Odesza and Emancipator. In her free time, Ms. Kuo enjoys the healing arts and currently has a remote hypnosis practice.
Maxine received her Bachelor's and Master of Music degrees from the Juilliard School, where she studied with Naoko Tanaka and Cho-Liang Lin.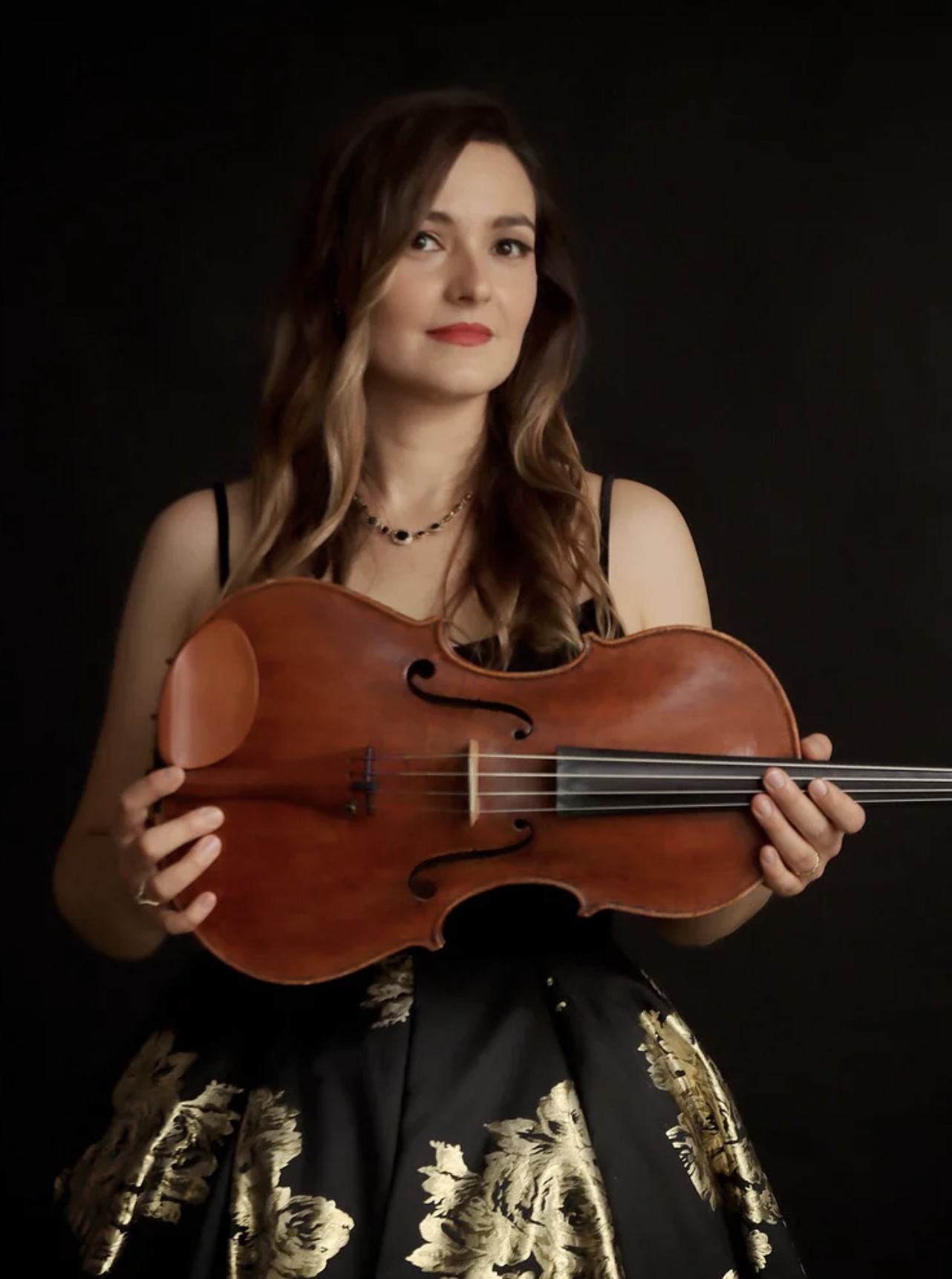 ---
Katie Carrington, Violist
Katie originally hails from Chicago and made her Carnegie Hall debut performing the Telemann Viola Concerto. She holds degrees from The Juilliard School and Rice University, where she had the pleasure of working with Heidi Castleman, Hsin-Yun Huang, and James Dunham. Katie previously played in the Louisiana Philharmonic as well as Principal Viola in the Breckenridge Music Festival. She currently serves as Principal Viola in the Mercury Chamber Orchestra.
In addition to her performing career, she enjoys a rewarding teaching career that fulfills her passion for sharing music with children. She previously served as Artistic Director of the Greater New Orleans Suzuki Forum.
She currently is on the Board of the Southeast Texas Suzuki Association as well as working with the Houston Youth Symphony and Mercury Chamber Orchestra's educational programs. Katie is thrilled to be joining the Axiom Quartet and to be working with such a dynamic organization.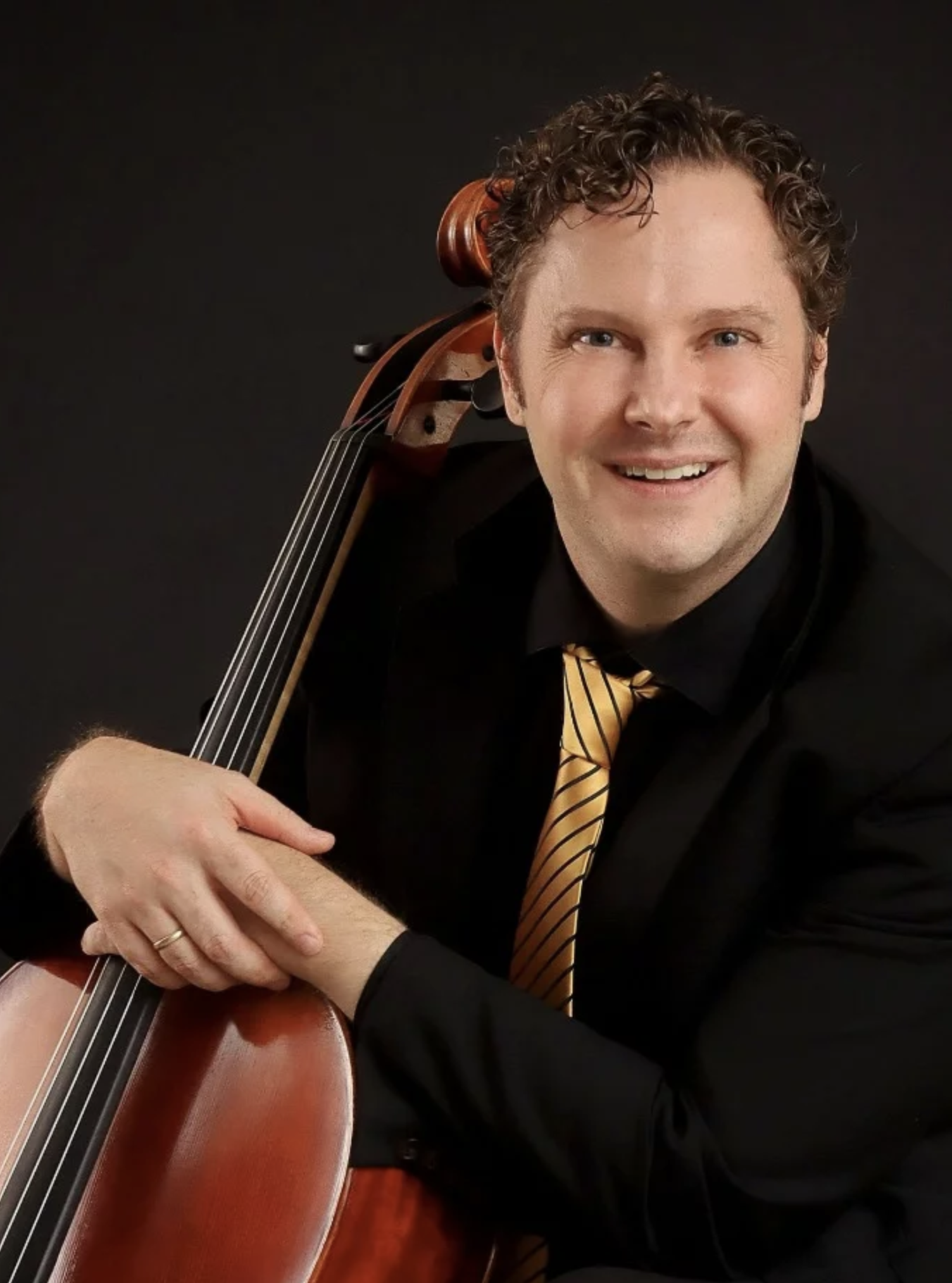 ---
Patrick Moore, Cellist
Patrick grew up in Midland, TX, and is a proud product of the Texas Music Educators Association. He had incredible orchestra directors growing up named Shari Allison and Karen McAfee.Several of his other spectacular cello teachers include Jeffrey LaStrapes, Alex Ezerman, Barbara Haffner, Chris French, and Lynn Harrell.  Recently he has started Suzuki training under the inspiring Alice Ann O'Neil. The majority of my music career has been in Houston as it is one of the best classical music centers in the world.  He attended Texas Tech University and studied music at Roosevelt University, and Rice University.
Several notable pieces that Patrick has played over the years include Bach Chaconne in Japan with Creative Minds Collaborative's production of "Tsuru". Elgar and Honegger Cello Concertos with local orchestras.  As well as a very difficult solo cello version of Handel-Halvorsen's "Passacaglia".
Patrick played the cello. "I wanted to play the violin but my elementary school teacher encouraged me to play cello as the violin 'was screechy and thin sounding compared to the beautiful rich cello.'"​
In his free time, he is an avid game player and owns a massive Lego collection.
Patrick Moore is a founding member of the Axiom Quartet and a musician of diverse interests who has performed as a chamber musician, soloist, orchestral musician, and improviser throughout the United States, Asia, and Europe.
He is a dedicated cello teacher and is on the faculty at the University of St.Thomas and at Houston's AFA. As a chamber musician, he plays with Aperio New Music Ensemble, Musiqa New Music Ensemble, and Foundation for Modern Music. As a soloist, he has performed with several organizations including Symphony of the North Houston, Frame Dance Company, Uptown Dance company, and the Creative Minds Collaborative. As an orchestral musician, he collaborates with Opera in the Heights and Houston's Latin Philharmonic