---
"One can maximize the minimal without driving out the elegance, the dance-like, the intimacy and the immediacy, for which there is no better instrument than the baryton. Which in turn is perfectly demonstrated by the Valencia Baryton Project. … Apparently small music can be this big. You can't get enough of it." — Die Welt
"Each player's performance is impeccable, not only on an individual level but also together. They have realized an exquisite and selfless work of chamber playing, executing a performance as a compact trio both precise and balanced" — Simón Andueza - Ritmo
---
7:30 pm
Tuesday, March 28, 2023

$35 Regular | $5 Student
Complimentary Streaming for Ticket Holders
---
Program
Haydn composed several pieces for the baryton, a stringed instrument popular in his time. This program includes four trios by Haydn and modern pieces by Ivan Moody, John Pickup and Steve Zink.
---
---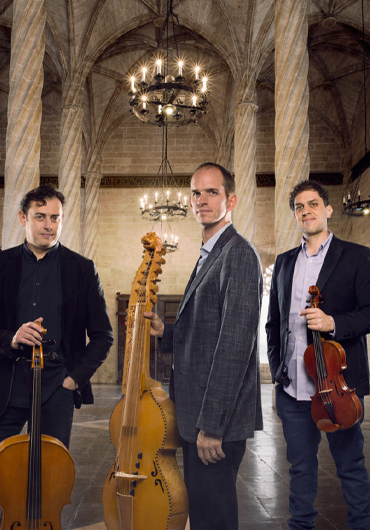 ---
Francis Poulenc (1899-1963)
Trio for Oboe, Bassoon and Piano
---
Alfred Schnittke (1934-1998) (arr. M. Krutik)
Suite in the Old Style
Pastorale
Ballet
Minuet
Fugue
Pantomine
---
Dmitri Shostakovich (1906-1975) (arr. Anatoly Trofimov)
Romance, op.97a
A Spin Through Moscow
---
---
Viet Cuong (b.1990)
Explain Yourself (2019)
Commissioned for the Poulenc Trio by the Barlow Endowment for Music Composition
---
Tom Benjamin (b. 1940)
Three Études After Whitman (2003)
Lament
Valse Triste/Valse Oubliée
Perpetuum Mobile
Written for the Poulenc Trio
OR
Gioacchino Rossini (1792-1878) (arr. Charles Triébert & Eugène Jancourt)
Fantaisie Concertante on themes from Semiramide
---
---
Valencia Baryton Project Members
---
A string trio with four instruments? A harpsichord hiding behind the cello? The Valencia Baryton Project has dedicated itself to the performance of music written for an ancient and little-known instrument, the baryton. A cross between the viol da gamba and lirone, with 10 resonating and plucked strings down the back of the instrument, the baryton gives the traditional string trio an entirely new dimension.
The Valencia Baryton Project was formed by colleagues from the opera of the Palau de les Arts and the Orchestre Nationale Montpellier with the vision of performing the nearly 160 works written by Franz Joseph Haydn as well as compositions by other composers, both modern and classical. At the heart of the ensemble is the traditional formation in trio – baryton, viola, and violoncello – for which Haydn wrote 123 works of outstanding beauty during his time as the court composer for the Prince Esterhazy of Austria.
With Matthew Baker, one of only a handful baryton performers in the world, the Valencia Baryton Project have delighted audiences in North, Central and South America as well as Europe with what is considered to have been the pinnacle of aristocratic instruments of the classical era. Their work has been described as 'beautifully polished' (Musicalifeiten) and "delightfully inventive" (The Strad). They have been featured in publications and programs such as Berklee Now (USA), Radio Nacional de España, BBC 3 (UK), Die Welt (Germany), and Classic FM (UK) amongst others.
In 2021, the Valencia Baryton Project released Naxos Records' first ever baryton CD, launching a new series for the label. Their recording has been described as "spiritedly performed and superbly recorded" (Classical Music Daily, UK), "highly recommended" (Stretto, Belgium), "a discovery for curious ears" (OnlineMerker, Switzerland), and "virtuosic" (WDR 3, Germany). The CD was nominated as one of the finalists for Best Classical CD of the Carles Santos Premios and has also appeared in Gramophone's top 20 Classical charts in the UK.
As Haydn was not limited to writing trios, likewise the Valencia Baryton Project has from the beginning been a flexible ensemble, adapting from its standard trio setting to accommodate anything from duo to quintet or even octet to accommodate the numerous works written for the instrument.
Beyond the over 160 works by Haydn for this instrument, the ensemble has added to their repertoire works by numerous other contemporaries of Haydn such as Tomasini, Lidl, Neumann and Bergsteiner as well as working with modern day composers such as Ivan Moody, Steve Zink, John Pickup and Julian Calarco. They have also collaborated with international artists such as Carrie Krause (violin, USA), Jeremy Brooker (baryton, UK), Chris Hirst (theorbo, UK) and Paloma Friedhoff (soprano, Spain) amongst many others.
---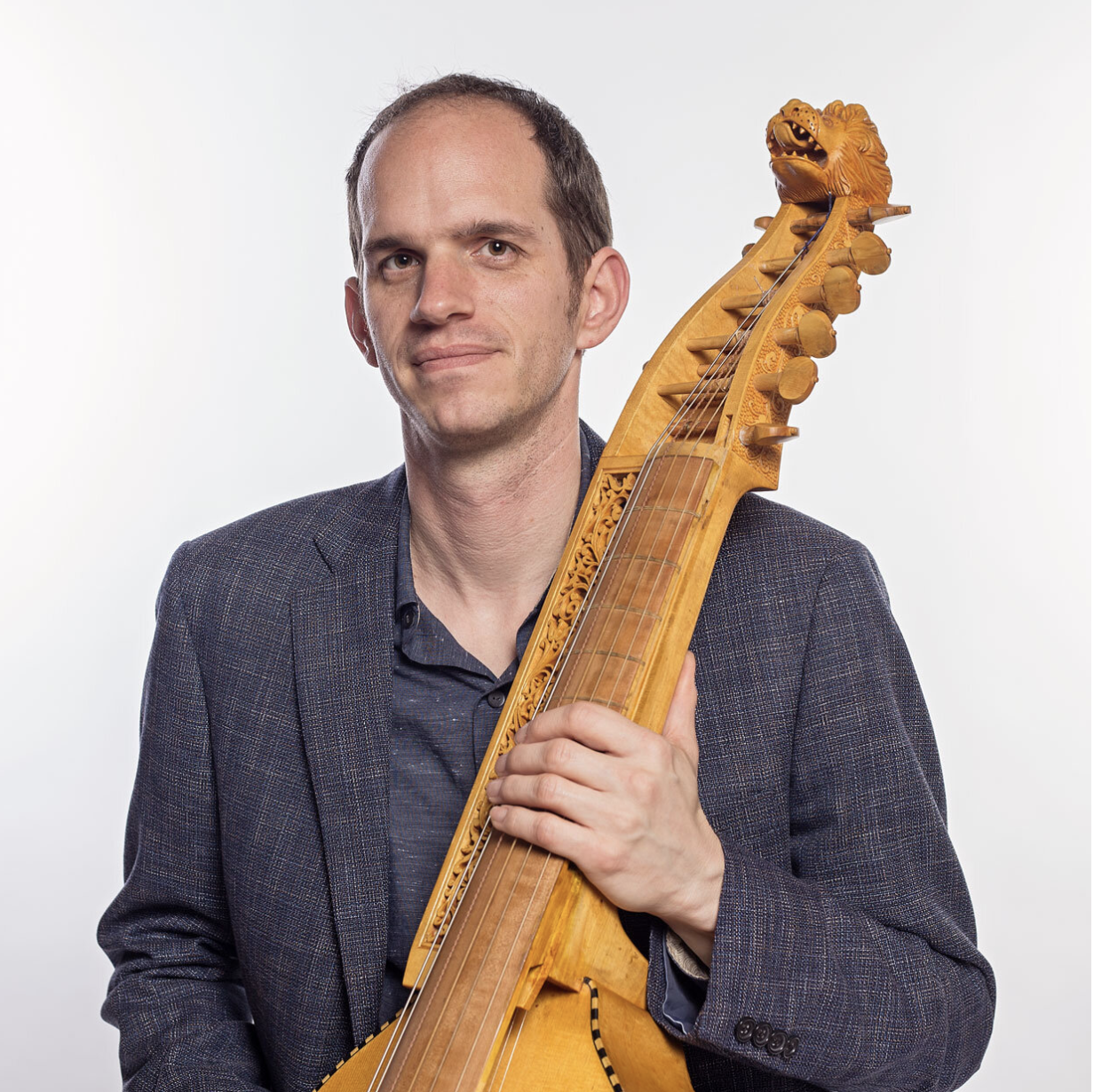 Matthew Baker, Baryton
Originally from Sioux City, Iowa, Matthew Baker began his professional music career as a double bassist at the early age of 13 with the Sioux City Symphony Orchestra, first as section and later as principal double bass.
Matt leads a diversified performance career, having achieved recognition worldwide for his work in classical, jazz, folk, and theatrical performance in over 20 countries on both the baryton and double bass.  He has had critical acclaim from concerts and recordings in publications such as The Strad, Gramophone, The Times, Independent, and Bass World, among many others.
He has worked with Naxos Records over the last 5 years first with the Elan Quintet in their ongoing and critically-acclaimed project of resurrecting and recording George Onslow's string quintets. Now with the Valencia Baryton Project, Matt has continued working with the world-class label to delve into the largely unknown repertoire of the baryton - a seldom played instrument of the baroque and classical era.
As a barytonist, Matt has not only delighted audiences with the traditional works of Haydn, Lidl, and Tomasini amongst others but in 2019 he also premiered a new genre of music for baryton with French jazz pianist, Baptiste Bailly in what was reported to be the first jazz baryton concert ever. He has later ventured into electronic jazz with the baryton collaborating with electronic artist IMGL.
Beyond his work with the baryton, Matthew is the professor of double bass at Berklee College of Music Valencia and a member of the Orquesta de Palau de les Arts, the opera of Valencia.
He holds a Bachelor of Music from the Royal Northern College of Music in Manchester, UK, and a Postgraduate Diploma from the Royal Academy of Music in London, UK.
Matt is an ambassador to Schertler Electronics and is an endorser for Wiedoeft Rosin.
---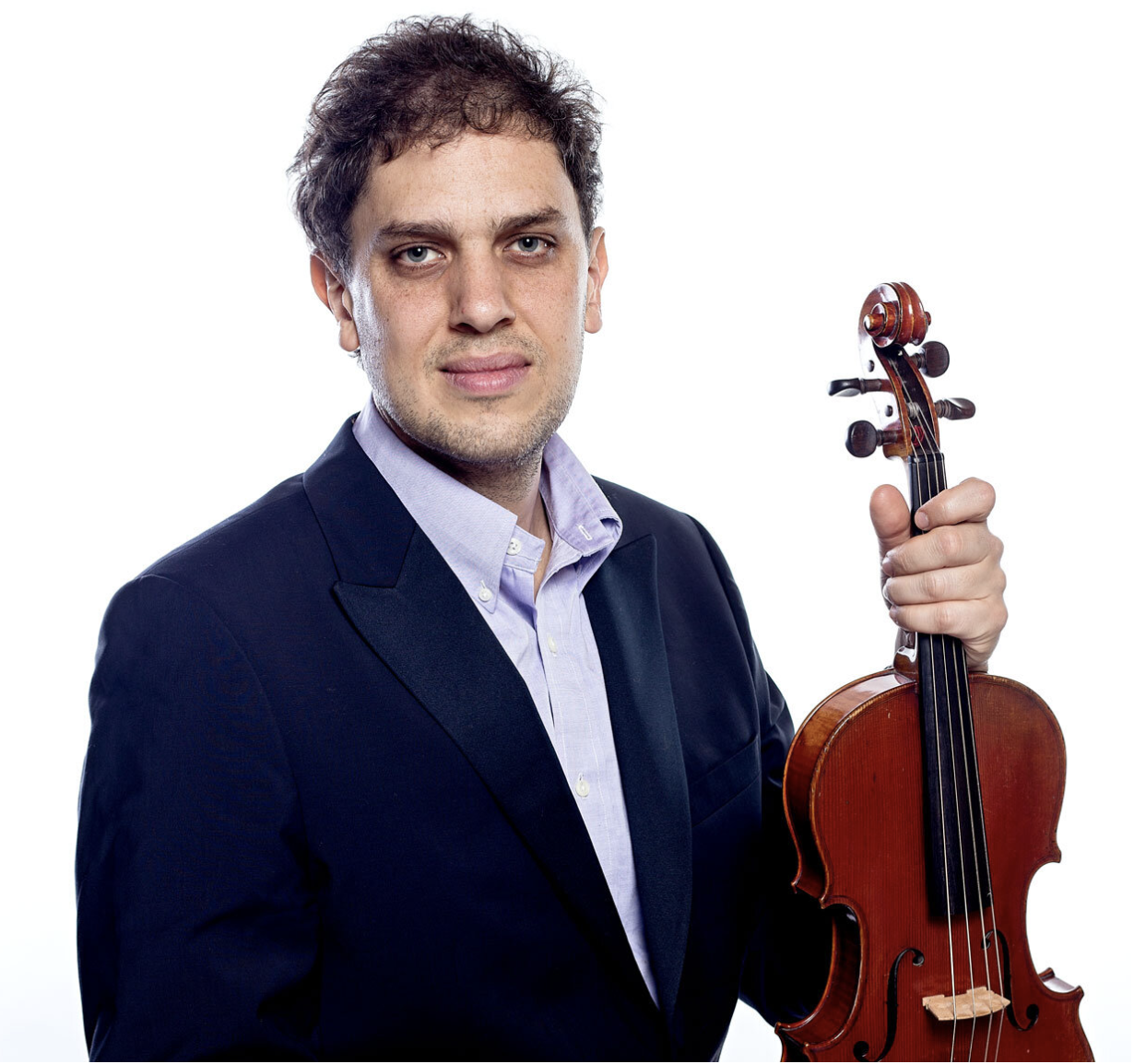 Estevan de Almeida Reis, Voila
Estevan de Almeida Reis (viola) was born in Brazil and studied in France and Denmark with Marie Christine Witterkoer and Rafael Altino as well as participated in masterclasses with Jean Sulen, Christophe Desjardins, Donald McInnes, Wilfried Strehle and Julian Rachlin.
In Brazil, Estevan was 3rd chair of the Opera of Rio de Janeiro as well as a member of the Orquestra Petrobras Sinfônica. Parallel to his orchestral work, he was a part of the Radamés Gnattali Quartet from 2014-2016, a leading ensemble for contemporary Brazilian music. Estevan also appeared as soloist with numerous orchestras and recorded contemporary works as well as recorded and toured a CD of children's music by Villa-Lobos. He has recorded and toured with Brazilian legends such as Caetano Veloso, Gilberto Gil, Carlinhos Brown, Milton Nascimento, Ivan Lins, Jaques Morelenbaum among others.
From 2016-2018, Estevan performed with the Palau de les Arts Orchestra in Valencia, Spain and in 2018 was appointed assistant principal of the Orchestre Opéra National de Montpellier.
---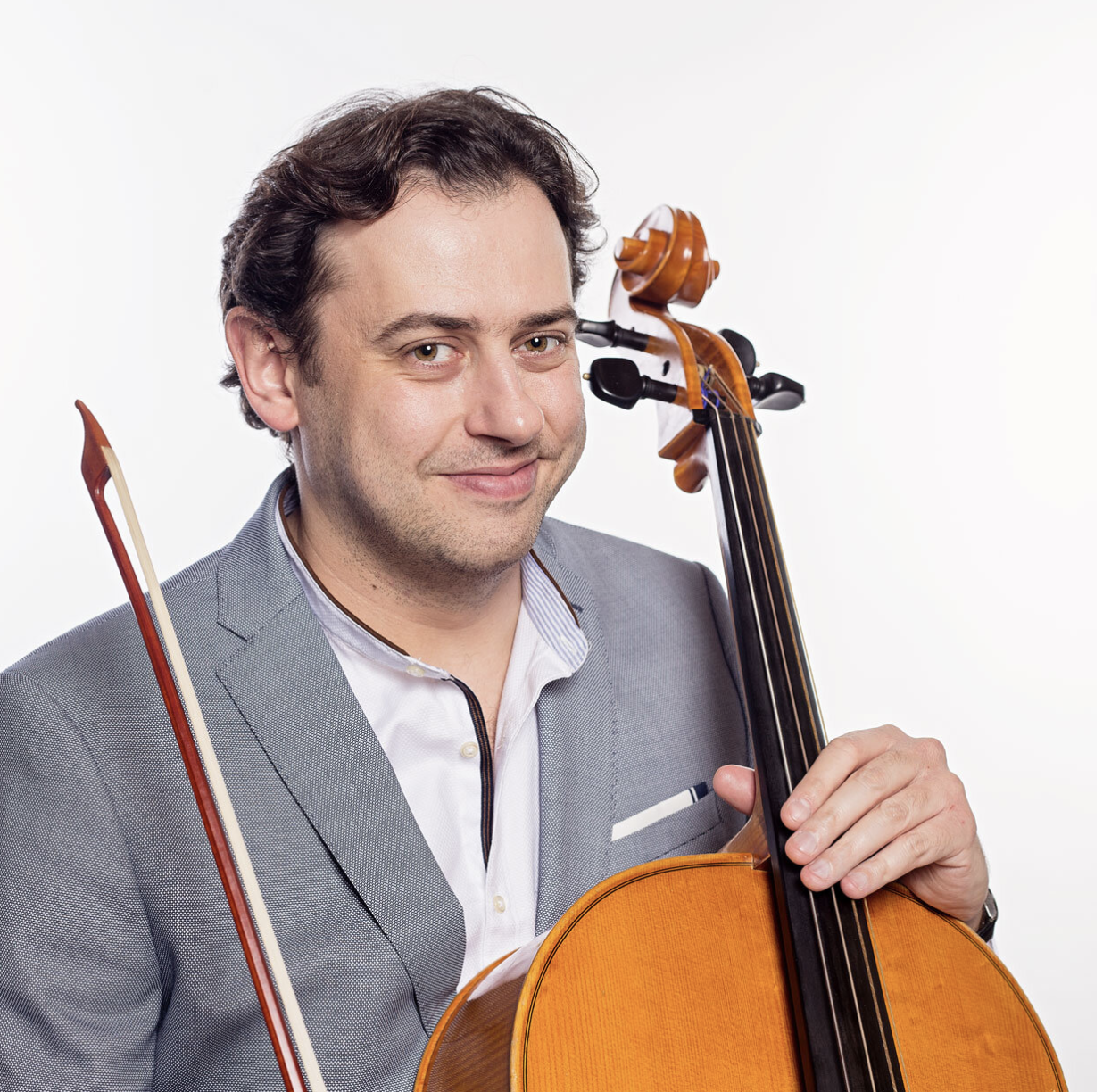 Alex Friedhoff, Cello
Alex Friedhoff began his cello studies with his father, and later earned a Bachelor's degree as a student of Janos Starker at Indiana University, and a Master's degree as a student of Lynn Harrell at Rice University. He is a winner of the First Prize and Prize for the Best Interpretation of Spanish music at the Third National Florián de Ocampo Cello Competition.
As a member of the Trío Vanguardia, he won the First Prize in the Second International Antón García Abril Chamber Music Competition.
After serving as Principal Cello of the Granada City Orchestra under Jean-Jacques Kantorow for two seasons, he was appointed a member of the Valencia Palau de les Arts Orchestra under the leadership of Lorin Maazel and Zubin Mehta.  During 2019 he periodically acted as assistant principal and principal cello of the orchestra.
He has participated in the chamber music festivals of Ribadeo, Godella, and Larzac, and has recently collaborated with the early music groups La Galanía & Raquel Andueza, and Gradualia.