---
Season 59: 2023-2024
Ames Piano Quartet
---
---
"One finds critics writing of their commitment, passion, power, and sensitivity, not to mention their collective technical skills."
 - Robert Cummings, AllMusic.com
---
Ames Piano Quartet
3:00 pm
Sunday, January 28, 2024
$35 Regular | $5 Student
Complimentary Streaming for Ticket Holders
---
Program
"Dreams of the Wounded Musketeer," featuring early music of Vienna and the Alps
---
---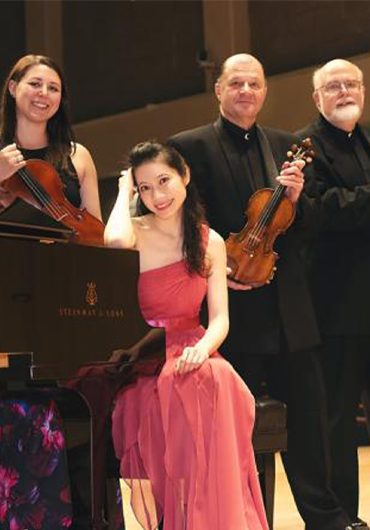 ---
Francis Poulenc (1899-1963)
Trio for Oboe, Bassoon and Piano
---
Alfred Schnittke (1934-1998) (arr. M. Krutik)
Suite in the Old Style
Pastorale
Ballet
Minuet
Fugue
Pantomine
---
Dmitri Shostakovich (1906-1975) (arr. Anatoly Trofimov)
Romance, op.97a
A Spin Through Moscow
---
---
Viet Cuong (b.1990)
Explain Yourself (2019)
Commissioned for the Poulenc Trio by the Barlow Endowment for Music Composition
---
Tom Benjamin (b. 1940)
Three Études After Whitman (2003)
Lament
Valse Triste/Valse Oubliée
Perpetuum Mobile
Written for the Poulenc Trio
OR
Gioacchino Rossini (1792-1878) (arr. Charles Triébert & Eugène Jancourt)
Fantaisie Concertante on themes from Semiramide
---
---
---
Anonymous (?Biber/?Schmelzer)
Sonata Jucunda a6 in D Minor
Giovanni Priuli (c.1575-1626)
Canzona Prima a8 from Sacrorum Concentuum
Giovanni Valentini (c.1582-1649)
Sonata a4 (arr. a10) in G Minor "Enharmonic"
Antonio Bertali (1605-1669)
Sonata a4 in D Minor
Alessandro Poglietti (d. 1683)
Sonata a8 in A Minor
Johann Pezel (1639-1694)
Ciacona a6 in B-flat Major from Opus Musicum Sonatarum

---
---
Johann Rosenmüller (1619-1684)
Sonata a5 in A Minor  
Samuel Capricornus (1628-1665)
Sonata a8 in A Minor
Adam Drese (1620-1701)
Sonata a6 in C Major
 J.H. Schmelzer (c. 1620/23-1680)
Serenada in Mascara a8 in A Major
H.I.F. von Biber (1644-1704)
Battalia a10 in D Major
---
Ames Piano Quartet Members
---
"In various iterations, the Ames Piano Quartet has been the ensemble-in-residence at Iowa State University since its inception in 1976. One of the few regularly constituted piano quartets in the world, the Ames Quartet briefly became the Amara Quartet in 2012, upon the retirement of two of its long-term members. Wishing to reconnect with more than thirty years of tradition, the Quartet has now returned to its original name of Ames.
The Quartet has an extensive discography, including fourteen CDs under the Ames name and a further two as Amara. Labels for which the group has recorded include Musical Heritage, Dorian, Sono Luminus, Albany, and Fleur de Son Classics. "One finds critics writing of their commitment, passion, power, and sensitivity, not to mention their collective technical skills," writes Robert Cummings on the AllMusic.com web site. Of their most recent release (Faure Piano Quartets) critic Huntley Dent writes in Fanfare magazine, 'As to the performances on this release, the second by the Amaras on Fleur de Son, they equal the best in the catalogue...we get the two virtues that make for a superb chamber ensemble: each player has an individual voice, and the group as a whole expresses a unified musical conception.'" - music.iastate.edu
---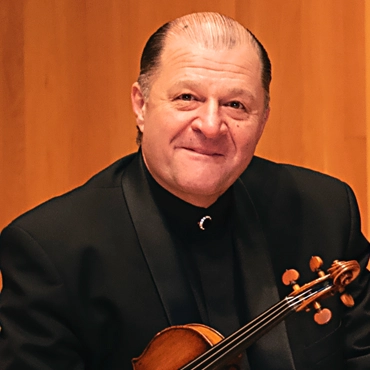 ---
BORIVOJ (BORO) Martinić-Jerčić, VIOLIN
A recipient of the prestigious Yehudi Menuhin Award, Mr. Martinić-Jerčić has enjoyed an illustrious career. Born in Zagreb, Croatia (1960), he was raised in a family of musicians and scientists and began violin lessons at the age of five. In 1978 he graduated from the Blagoje Bersa Conservatory of Music where he studied with Kristijan Petrović. As a teenager he visited relatives in Ottawa, Ontario, where he began summer lessons with Armand Weisbord. In 1977 Boro attended the Interlochen Summer Music Camp, where he won a full tuition scholarship to the University of Michigan. In 1982 he earned his Bachelor Degree in Violin Performance under the guidance or Prof. Paul Makanowitzky, and in 1984 Boro earned his Master's Degree in Violin Performance under the guidance of Prof. Ruggiero Ricci. After graduating in 1984 Boro performed with such prestigious ensembles as Orpheus Chamber Orchestra and Detroit Contemporary Chamber Ensemble.
Boro joined The Phoenix Symphony in 1986; he was named its concertmaster in 1991. In 2005 he took up a new post as the Artistic Director and Concertmaster of world famous chamber orchestra "I Solisti di Zagreb" in Croatia. At the same time he was given a position of a Professor of violin at the Zagreb Academy of Music. During his tenure with I Solisti di Zagreb, he performed more than three hundred concerts worldwide and released several CDs. The CD with Maestro Pepe Romero, "Caribbean Concertos" was nominated for Latin Grammy in 2012.
After leaving Zagreb in 2012, he joined the String Department at Iowa State University where he is an Associate Professor of Violin and Viola and a violinist of the Ames Piano Quartet. Since joining the Ames Piano Quartet, they released three CD's with Fleur de Sol Classics, Ltd label.
Working with university students inspired him to begin to work on a book, "Freedom and Flexibility of the Violinist's Left Hand". The book was published in 2017 by Dominis Music Ltd, Ottawa, Ontario, Canada. In 2020 The Strad Magazine reviewed his book with much praise.
Every summer, since 1984, he performs with the Santa Fe Opera Orchestra and regularly appears throughout North America as violinist with the Ames Piano Quartet. Since 2012 he is a member of "Samoborske Glazbene Veceri" Chamber Music Festival in Croatia. Numerous solo and chamber music performances have taken him throughout the United States, Canada, Asia and Europe.
As concertmaster he has collaborated with such eminent artists as Kurt Masur, Hermann Michael, Theo Alcantara, David Robertson, Leonard Slatkin, Alan Gilbert, Edo de Waart, Isaac Stern, Pinchas Zukerman, Itzhak Perlman, Elmar Oliveira, Midori Goto, Hilary Hahn, Joshua Bell, Gil Sha-ham, Guillermo Figueroa, Van Cliburn, Ivo Pogorelich, Emanuel Ax, Alicia de Larrocha, Pepe Romero, Zoran Dukic, Ana Vidovic, Radovan Vlatkovic, Yo Yo Ma, Giovanni Sollima, Julius Berger, Marc Coppey, Monika Leskovar and Bozo Paradik.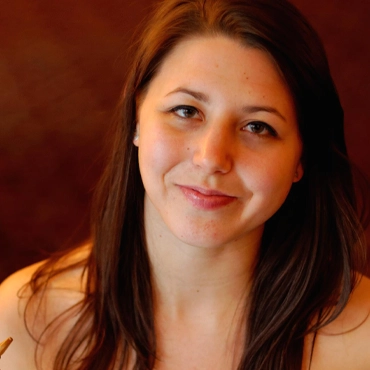 ---
STEPHANIE PRICE-WONG, VIOLA
Stephanie Price-Wong is nationally recognized for her genre-busting concerts, dynamic teaching style, progressive administrative work, advocacy in chamber music pedagogy, and leadership in training the next generation of music entrepreneurs.
As a teacher, Stephanie guides and empowers her students to master their technique while finding the freedom to express emotion and empathy that interlace into our day-to-day lives. She is equipped to teach both the traditions and philosophies of classical training while integrating multi-genre techniques that support an eclectic background. Stephanie has been an active private studio teacher since 2006 and has served as the Adjunct Viola Professor at Ohio University since 2015.
Her love of chamber music began as part of a family of dynamic musicians at The Chamber Music Connection (CMC). Growing up in an arts administrative family helped instill and nurture her passion in the art, performance, and education of chamber music. She is proud to serve as CMC's Assistant Artistic Director and Fellowship Program Director. Through CMC she has worked with some of the most respected and acclaimed chamber musicians of our time, including members of the Aizuri, Ames, Brentano, Calidore, Callisto, Cavani, Cleveland, Cypress, Dover, Emerson, Fry Street, Formosa, Guarneri, Hausmann, Jupiter, Pacifica, St. Lawrence, Verona, and Ying quartets. She is also proud to be a primary member of CMC's associated faculty that has led many CMC ensembles to win or place in the world's top junior division national chamber music competitions including the Coltman, Fischoff, Saint Paul String Quartet, Midwest Young Artists Conservatory, Pasadena Conservatory, and WDAV Young Chamber Musicians Competitions.
Stephanie's passion for chamber music has resulted in diverse performing styles and collaborations with world-renowned artists and ensembles including the Cavani Quartet, Jeffrey Irvine, Peter Salaff, Michael Tree, Mikhal Kopleman, and Jamey Haddad. She has performed recitals in the United States and Europe, notably at the Kennedy Center, Conservatorio Santa Cecilia in Rome, and on National Public Radio's From the Top! Series.
She is a founding member of the KASA Quartet, winners of the 2017 Coltman National Chamber Music Competition. Stephanie has been a performing artist at the Caroga Lake Music Festival (CLMF) since its founding in 2012 and went on tour to Switzerland with CLMF and CMC in 2017.
She received a Master of Music from the Eastman School of Music with a certificate in Arts Leadership and a Bachelor of Music from the Cleveland Institute of Music where she was the recipient of the Alumni Jim Hall Graduate Studies Scholarship. Stephanie is also a member and trainee of The Association for Body Mapping Education.
Stephanie recently relocated to Caroga Lake, New York where she enjoys spending time with her family, son Felix (yes…named after Mendelssohn), husband David, and their two rescue dogs Bridget and Goofy.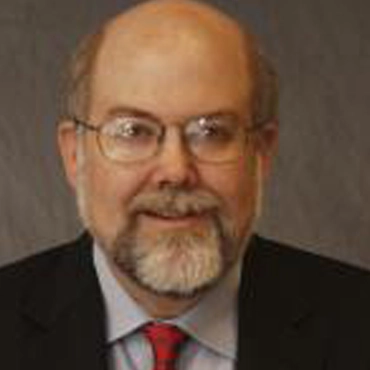 ---
GEORGE WORK, CELLO
George Work, professor of cello at Iowa State University, holds his bachelor's and master's degrees of music and a performer's certificate from the Eastman School of Music, where he also served as teaching assistant to Robert Sylvester. His principal teachers include Robert Sylvester, Paul Katz, Ronald Leonard, Gabor Rejto and Carol Work.
In 1981, he joined the Ames Piano Quartet, in residence at Iowa State University. In the course of its career, the Quartet released fourteen critically acclaimed CD recordings, one on the Musical Heritage label, five on Albany Records, and the others on Dorian/Sono Luminus Recordings. The Ames Quartet appeared regularly in concert throughout the United States and Canada. International appearances included Salzburg, Austria, Paris and Marseilles, France, Taipei, Tainan, Kashiong and Taichung, Taiwan, Merida, Mexico, Havana, Cuba and Kaliningrad, Russia. The group was also featured on NPR's "Performance Today," WQXR's "The Listening Room," and appeared on a special edition of "St. Paul Sunday" commemorating the 50th anniversary of WOI radio. This latter led to an invitation to tape a second "St. Paul Sunday," which aired nationally for the first time in November 1999. In 2012, following the retirement of two long-time members, the Quartet was renamed the Amara Piano Quartet. It continues to concertize throughout the US under the new name, and has recently released its first commercial CD on the Fleur de Son label.
George Work has appeared as soloist with numerous orchestras in the Midwest, as well as in Taiwan, R.O.C. and Kaliningrad, Russia. His recording of the Ibert Concerto for Cello and Winds was released in 2012 to critical acclaim. A faculty member at the a Brevard Music Center in North Carolina from 1998-2002, George Work was also chosen to be an artist faculty member at the first-ever Schlern International Music Festival, held in Voels am Schlern, Italy, in the summer of 2003. In addition to concertizing with the Ames Piano Quartet, George Work is also a member of the Belin String Quartet and the Des Moines Symphony. In 2016, he became the first-ever recipient of the Jean Bacon Louis Faculty Fellowship.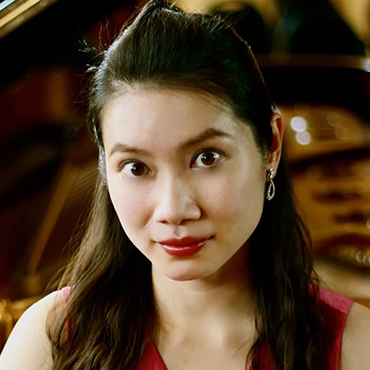 ---
MEI-HSUAN HUANG, PAINO
Pianist Mei-Hsuan Huang is Associate Professor of Piano at Iowa State University and a member of the Amara (Ames) Piano Quartet (Joanne Rile Artists Management).
Huang has been a prizewinner in several international piano competitions, including the USASU International Piano Competition in Tempe, Arizona, the 57th Wideman Piano Concerto Competition in Shreveport, Louisiana, and the International Chopin Piano Competition in Taipei, Taiwan. She regularly performs over fifty solo and chamber recitals every year in Europe, States, Canada and Taiwan. She has been invited to summer festivals including the 2006 Aspen Music Festival, the 2007 Pianofest in the East Hamptons, the 2008 Orford Music Festival, Quebec, the 2010 Atlantic Music Festival in Maine, the 2012 CICA Eureka Springs International Music Festival in Arkansas, and the 2012 and 2013 Banff Music Festival, Alberta. Festivals increasingly ask for her presence on their artist rosters. Recently, Huang also was presented in a piano recital in National Taiwan Concert Hall (Taipei), as a result of being nominated for the prize of "Excellent Musician Series" by ProArtist. She also gave a sold out concert (Chamber Label Management) in 2017 at National Taiwan Concert Hall and TaiChung Opera House. 
In 2013, Huang performed George Gershwin's Rhapsody in Blue with the Central Iowa Symphony, Robert Schumann's Piano Concerto with the Iowa State University Orchestra, and Camille Saint-Saëns' Carnival of the Animals with the Des Moines Symphony. In 2017, she performed Bach's F Minor Keyboard Concerto and numerous chamber concerts with the Caroga Lake Chamber Orchestra in New York and Switzerland. Huang has travelled with the Amara Quartet to perform at the Colours of Music Festival in Barrie, Ontario and on concert series in Illinois, Virginia, Michigan, Ohio, and Texas. The quartet released compact disc on the Fleur de Son label in 2016, a recording of American quartets that will feature the piano quartet by George Tsontakis' piano quartet No. 3, Dark Rosaleen—written by Lee Hoiby for the Ames Piano Quartet—a piano quartet by Walter Piston and Carolina Reveille by Paul Schoenfield. The quartet released compact disc on the Fleur de Son label in 2018 including both Faure Piano Quartets. Huang was recently invited to perform Beethoven's Concerto No. 5 "Emperor" with the Central Iowa Symphony and Iowa State University Orchestra.
​Besides performing, Huang is dedicated and passionate about teaching. She maintains a strong studio in Ames, IA  where she teaches a select number of high school students along with her University students. Students of Huang have won and placed in numerous regional and local competitions, including Fort Dodge Concerto Competition, Central Iowa Young Artist Competition, Terrace Hill Piano Competition, Iowa State Fair Talented Show, Iowa Teacher Music Association (IMTA) competition and Music Teachers National Association (MTNA) competitoin.
​Huang received her bachelors degree at The National Taiwan Normal University, where, she won the prestigious Xing Tang Temple Piano Competition Prize. She received her masters degree at the Cleveland Institute of Music, where she studied with Sergei Babayan, Margarita Shevchenko, and Paul Schenly. She received her doctorate of musical arts degree at The Ohio State University under full-scholarship.
​Huang is on piano faculty at The Atlantic Music Festival in Maine and guest pianist at Caroga Music Festival in New York during the summer.
​Huang was named a Steinway & Sons Artist since 2014. She is also the recipient of 2019 Steinway Top Teacher Award and 2021 Steinway Teacher Hall of Fame.